Thursday Check In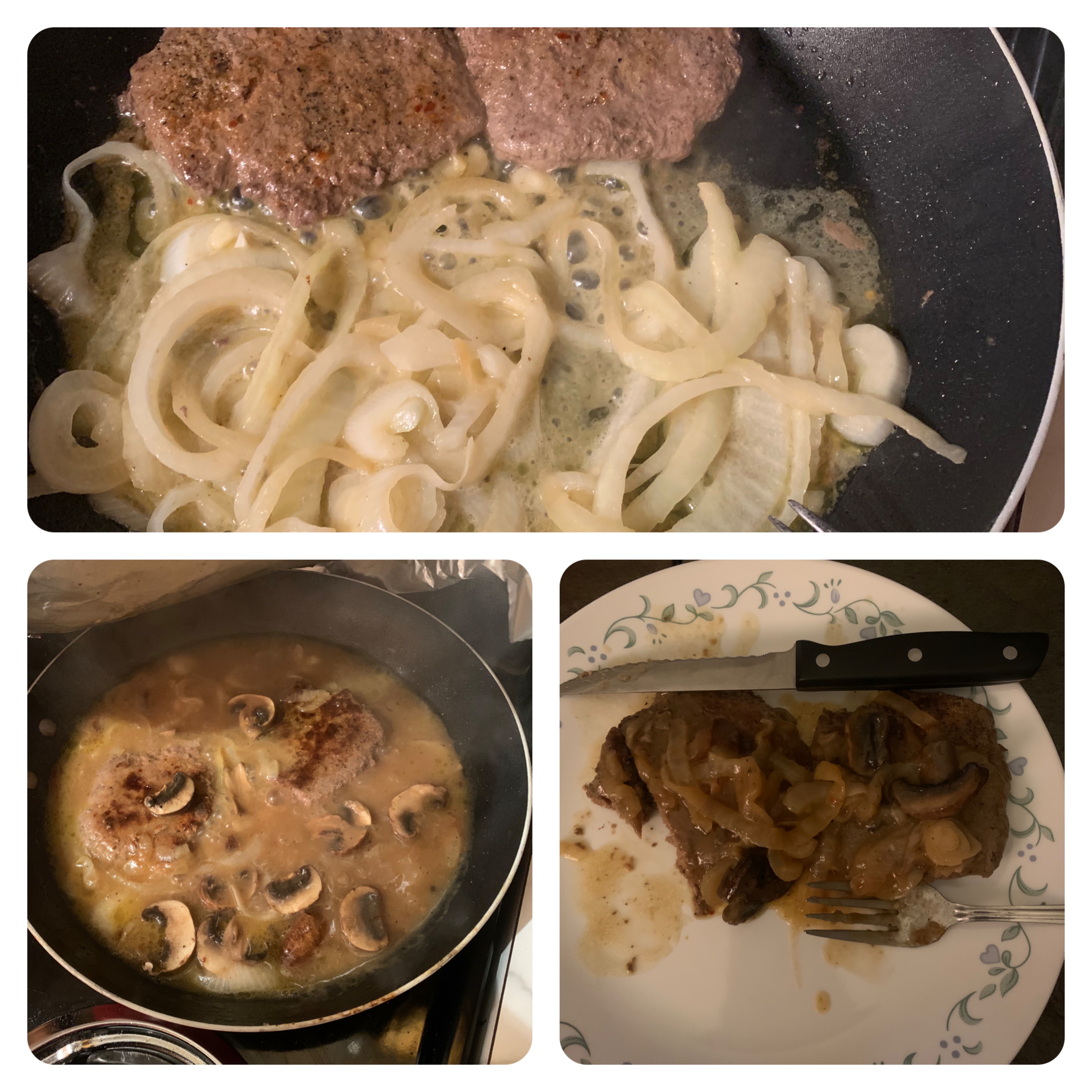 United States
November 10, 2022 8:38pm CST
Good evening everyone! It is 8:30 PM in Tulsa Oklahoma. Cold front and rain coming in. When I got home tonight I brought some more firewood in from my balcony and put it near my fireplace. I took a package of beef cube steak out of the freezer and was able to get two of the steaks defrosted to season and cook. I did not coat them with flour, instead I season them and seared them in some olive oil. I then added a half of a large sliced onion and caramelized those in the pan with some butter. I did add one rounded heaping teaspoon of flour and made a little bit of a gravy so that I could leave the steaks simmering so that they would be tender. I also added some sliced portobello mushrooms. I covered it and reduced the heat and let it simmer for 30 minutes. It definitely hit the spot for dinner!
9 responses

• United States
11 Nov
That does sound really good!

I still hadn't eaten after waking up at 5 pm, so while I was deboning the last of the smoked turkey, I put a couple of sliced of it into a little butter and pan fried it. Then added some sliced mushrooms and seared them in the butter after the turkey was done. I'm eating that now. Earlier, Pretty asked me to brown some sausage and hamburger meats together and later tonight she wants me to make cornbread batter and press it into muffin cups and put the cooked meat into the batter cups and then I'll bake the muffins. It should make a delicious late supper.


• United States
14 Nov
@SonjaRae
They are really good! I press a hole into the center of the batter once its in the muffin cup and then stuff the meat into the hole and bake it. It's almost like a sandwich. We really like them.

• United States
14 Nov
@DaddyEvil
One day when I am treating myself to carbs again, I will try that.


• United States
14 Nov
Yummy meal! I'm just having leftovers, chili and rice. A butter roll and fresh veggies. Day turned sunny. Had light shower this morning to cool down the community.

• United States
15 Nov

• United States
11 Nov
Sounds and looks good. Please leave the onions off of my portion! :-)


• United States
14 Nov


• Canada
11 Nov
Oh my gosh that looks amd sounds delicious.

•
11 Nov
Eating dinner would not be nearly as good at times if there were no mushrooms and onions! They just have a way of helping to make delicious foods.

• United States
14 Nov
We had rain Thursday, Friday and part of Saturday. And it was also cold. I don't like rain. It depresses me. I have always felt if it's going to be cold, give me snow over rain any day! Your dinner sounds like it was yummy!

• Roseburg, Oregon
11 Nov
That does look really good.

• Rockingham, Australia
11 Nov
That sounds a very yummy meal. We'll be having ours in an hour or two.

• Defuniak Springs, Florida
11 Nov
It is cold and rainy here too. Not really cold, but cooler and with the wet it seems colder than it actually is. We had Chinese for dinner then I painted the bathroom. LOL