Are you reading any holiday books this year? Picture of yesterday's lunch!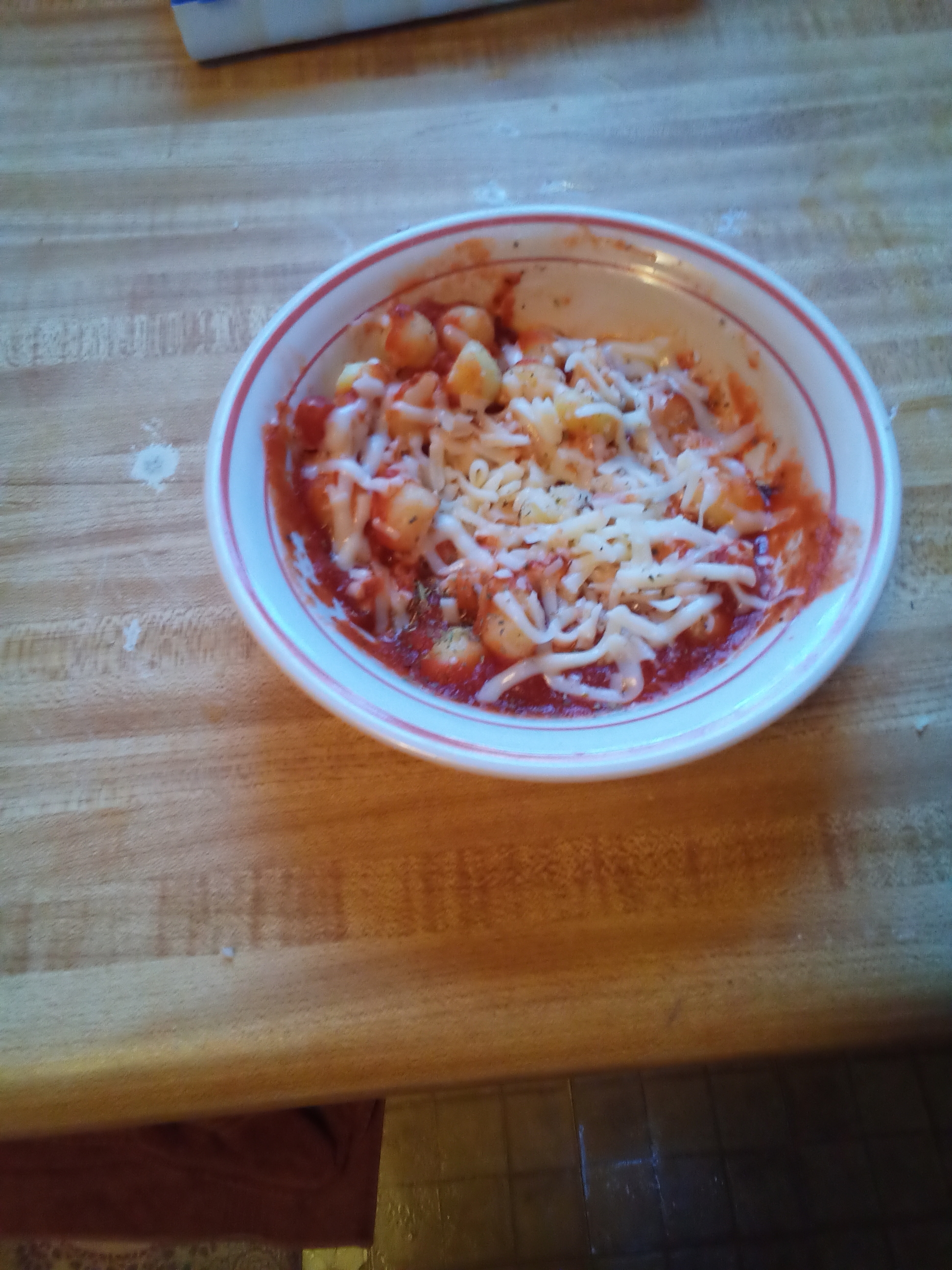 Pittsburgh, Pennsylvania
November 22, 2022 10:46am CST
Good morning! This year I am going to read holiday books until December 26th at least. I am reading a cute short Thanksgiving book called " A Match Made For Thanksgiving." (Holidays with the Wongs Book 1) by Jackie Lau. I have only just started it, but think it is a romantic comedy. Favorite genre for me! I like what I have read so far. I am ready to go back to the library i think and notjust use the e-library. I reserved four Christmas regular books. I borrowed some Christmas books from the e-library, and Kindle Unlimited. Finally, I looked through my shelves and brought out the Christmas books. I probably won't read everything, that is okay. I like to know I have options! Are you reading any Holiday books this year? My lunch picture (hopefully it posts, yesterday I had an error) shows gnocchi in pasta sauce. I sprinkled Italian seasoning on it, then I topped it off with shredded mozzarella that i melted in the microwave.
9 responses



• Pittsburgh, Pennsylvania
27 Nov
@LadyDuck
The book I bought was a Christmas anthology of mysteries. It is called "The Big Book of Christmas Mysteries" The book is sixty Christmas mysteries collected from an author that I have vaguely heard of, Otto Penzler (he must be a great writer as he won an Edgar Award) has collected. The anthology has Christmas mysteries by famous mystery writers such as Mary Higgins Clark, Ngaio Marsh, Sir Arthur Conan Doyle, Ed McBain, Sara Paretsky, and many more. I will start to read it today. It is an older book from 2013, so the hardback is almost $50 ( I assume it is hard to find, so the price goes up, or something like that), BUT the ebook on Amazon is only $2.99, which is a bargain for 1,289 pages! It is the lowest price in the last thirty days. I have read romance novellas (I read them for free on Kindle Unlimited), but if a person doesn't have Kindle Unlimited, some romance books with 70-100 pages, sometimes fewer, cost $2.99+. There is no way I am paying that much for that short of a book!

• Pittsburgh, Pennsylvania
26 Nov
I bought a $2.99 Christmas mystery anthology e-book for my Kindle this morning. It was worth that much, as it has over 1,200 pages! I don't usually buy books anymore, but I love Christmas mysteries, and this one was such a bargain. It was cheap for how many pages are in the book. I hope you find some great books to buy! Will any be Christmas related? Thank you, my gnocchi was pretty good!


• United States
22 Nov
Not reading Christmas this year. Right now I'm reading Lisey's Story by Stephen King. It's a creepy book. There is a tv show based on the book and I'm also watching it.


• Pittsburgh, Pennsylvania
26 Nov
I have never heard of "Lisey's Story" I am not the biggest Stephen King fan. But I hope you enjoy it! What channel are you watching the show based on "Lisey's Story?" Is it the same as the book?

• United States
29 Nov
@Marty1
Lisey's Story is on Apple TV. I don't have Apple TV, but I'm watching it on the computer. Yes and no. I have two more episodes left and over a hour left in the book (according to my kindle). The episode I watched today there was a major difference between the show and the book which might be mean that the ending will might be different. But there has been a little differences too.

• East Tawas, Michigan
22 Nov
That sounds scary, I'd like reading that book!
@JESSY3236


• Pittsburgh, Pennsylvania
26 Nov
Well, they are not for everybody. That is fine. Plus, I don't think there are many Christmas books in the history genre that you like to read.

• East Tawas, Michigan
22 Nov
Your lunch looks very delicious, a nice meal you definitely enjoyed! And no, I haven't gotten any Christmas books to read, we usually watch Christmas movies on television. Frosty the Snowman, The Grinch, Ebenezer Scrooge, Charlie Brown's Christmas Tree and others I forgot to name:)


• East Tawas, Michigan
26 Nov
@Marty1
We never see any Christmas shows until the beginning of December. Old comedy shows are great, I love Bewitched!

• Pittsburgh, Pennsylvania
26 Nov
@kobesbuddy
I can't go to sleep without the TV on and woke up to Bewitched a few days ago! It was hilarious! I love I dream of Jeannie from 1 -2 p.m. and That Girl from 3 -4 p.m. (there are two of every comedy in a row on Antenna TV) I listened to Love Boat on the free streaming service Pluto TV last night while going to sleep. That service has a whole channel devoted to Love Boat! It was funny, too!

• East Tawas, Michigan
26 Nov
@Marty1
I was told many times that I looked like Marlo Thomas(that girl), years back. I wore a lot of makeup at that time, but I don't do that anymore.


• San Jose, California
27 Nov
I have a collection of murder mysteries called Murder For Christmas that I pull out and re-read every year.

• Pittsburgh, Pennsylvania
28 Nov
That sounds like a good book! I will look for it! I am reading "The Adventure of the Christmas Pudding," a short story by Agatha Christie in the book I am reading on my Kindle called "The Big Book of Christmas Mysteries," which has sixty stories written by various mystery writers.

• San Jose, California
29 Nov
@Marty1
There's at least one Agatha Christie story in my book, and I think it's one involving Poirot, the Belgian detective.

• San Jose, California
29 Nov
@Marty1
This is the book I'm talking about.

Murder for Christmas: 26 Tales of Seasonal Malice [Thomas Godfrey, Gahan Wilson] on Amazon.com. *FREE* shipping on qualifying offers. Murder for Christmas: 26 Tales of Seasonal Malice



• Pittsburgh, Pennsylvania
22 Nov
It can be made at home; my cousin once made them with her daughter during the Covid quarantine. I am sorry, but I have no idea how she did it. But I am sure you can look up a recipe online, as I am sure that is where my cousin found her recipe. I hope you find one if you look, and if you make them, I hope you enjoy them!

• Rockingham, Australia
23 Nov
As you say, it's always good to have options.


Your meal looks tasty.

• Pittsburgh, Pennsylvania
26 Nov
Yes, the options are good! But I have too many options, I think! Thank you! My gnocchi was good. I enjoyed the cheese I melted on it in the microwave!

• United States
23 Nov
I love gnocchi. No, I'm not reading any holiday books.

• Pittsburgh, Pennsylvania
24 Nov
I discovered I like gnocchi better in pasta sauce instead of butter as I used to make it. I thought I would try something different than butter this time and discovered I liked it better! Happy Thanksgiving!

• United States
25 Nov
@Marty1
Happy belated Thanksgiving to you! We have a local Italian restaurant that makes spectacular gnocchi. Just like mom used to make.

• Pittsburgh, Pennsylvania
25 Nov
@LindaOHio
Thank you! You are so lucky! First, you have a restaurant that makes such great gnocchi. Second, your mom made them! If my mom made them for dinner, she bought them packaged and put them in butter instead of pasta sauce. I learned pasta sauce is better with gnocchi! Was your Thanksgiving dinner good? My sister brought me turkey, deviled eggs, brownies, and Italian bread so I could eat bread with my meal. I made the stuffing myself on the stovetop while my peer watched on the day before Thanksgiving. She let me do it all! Then my peer taught me how to open a can of cranberry sauce!


•
3 Dec
I really don't normally read what you would term ''holiday'' books. However, I love the author Fannie Flagg (she has many wonderful books, she also wrote Fried Green Tomatoes). One of her books is a small one, it's called ''A Redbird Christmas''. I think you would love it, it's really a sweet story.

• Pittsburgh, Pennsylvania
3 Dec
I have read a few books by Fannie Flagg and have LOVED them. I have the "Fried Green Tomatoes" book on my Kindle but didn't get a chance to read it yet. I plan on it next year, though. I am making reading plans for next year, but I haven't finished them. I read "Noel Diaries: A Novel" by Richard Paul Evans, which took place in the weeks in December leading up to Christmas; I didn't get the Christmas spirit of books I wanted books written around the holiday to give me. I didn't know Fannie Flag wrote a Christmas book. I gave up reading them as none gave me a "holiday feeling." Thanks for the book recommendation; I will look for it!

• Pittsburgh, Pennsylvania
4 Dec
@MarieCoyle
I will read Fried Green Tomatoes next! I have a few pages left from a library book, then onto Fried Green Tomatoes! I have read a few Fannie Flagg books, and there is something I like a lot about her writing style. I want to read all she has written if I can find them! I can't say I am a big fan of Richard Paul Evans; I have only read The Noel Diary: A Novel. I liked the story. Honestly, I was so caught up in the story I ignored the writing style. I will try him again as I am on the waiting list at the library for the other three books in The Noel Series from him. I started one of the Sisterhood series books by Fern Micheals last night. I can get the first four for free on Kindle Unlimited. I downloaded the first and started it. I only had time for a few pages; I enjoyed what I read. I read one from the series I got at a library book sale long ago. I remember I liked it, but I don't remember the book! Until yesterday I didn't try to read more of them.

•
4 Dec
@Marty1
Her books are SO good, Jennifer!! Read Fried Green Tomatoes as soon as you can! It's the best book...all of her books are. Richard Paul Evans books--for some reason I don't get in to his style of writing. He gets so descriptive, he sometimes forgets about the characters actions and feelings--but we all have different opinions on authors.