Why Many People Eat To Mc Donald's Food?

Italy
7 responses

• United States
1 Dec 06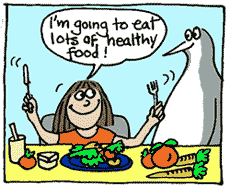 I am originally from Japan and I have been living in USA for almost 10 years.I don't like McDonald's it because most of food that they serve aren't healthy.They have srarted to sell salad with chicken or so but I don't eat at there. I think it is convinience and price aren't that bad for a huge greasy meal but I rather want to pay an extra buck or two and get a better and healthy sub;) What would you say?

• France
2 Dec 06
Because, there, hamburgers are soooo gooodd !! Have nice day, Greetings.

• United States
2 Dec 06
I like it because well i have two kids and they have a playland for them to play in during the cold winter months. I do love the fries but sometimes i just buy for my kids and i get something else. When you live in a state that is covered in snow alot its nice to have an indoor park to let the kids run wild.

• United States
1 Dec 06
People in american like it because it is very cheap and tastes great. Also it is easy to just go through the drivethrough and get food in minute. Also, it is everwhere and makes people feel comfortable when they eat it. I know the food is very unhealthy, but it is very addicting. I only eat there about once a month or less.