Frugal Living: $35 on food today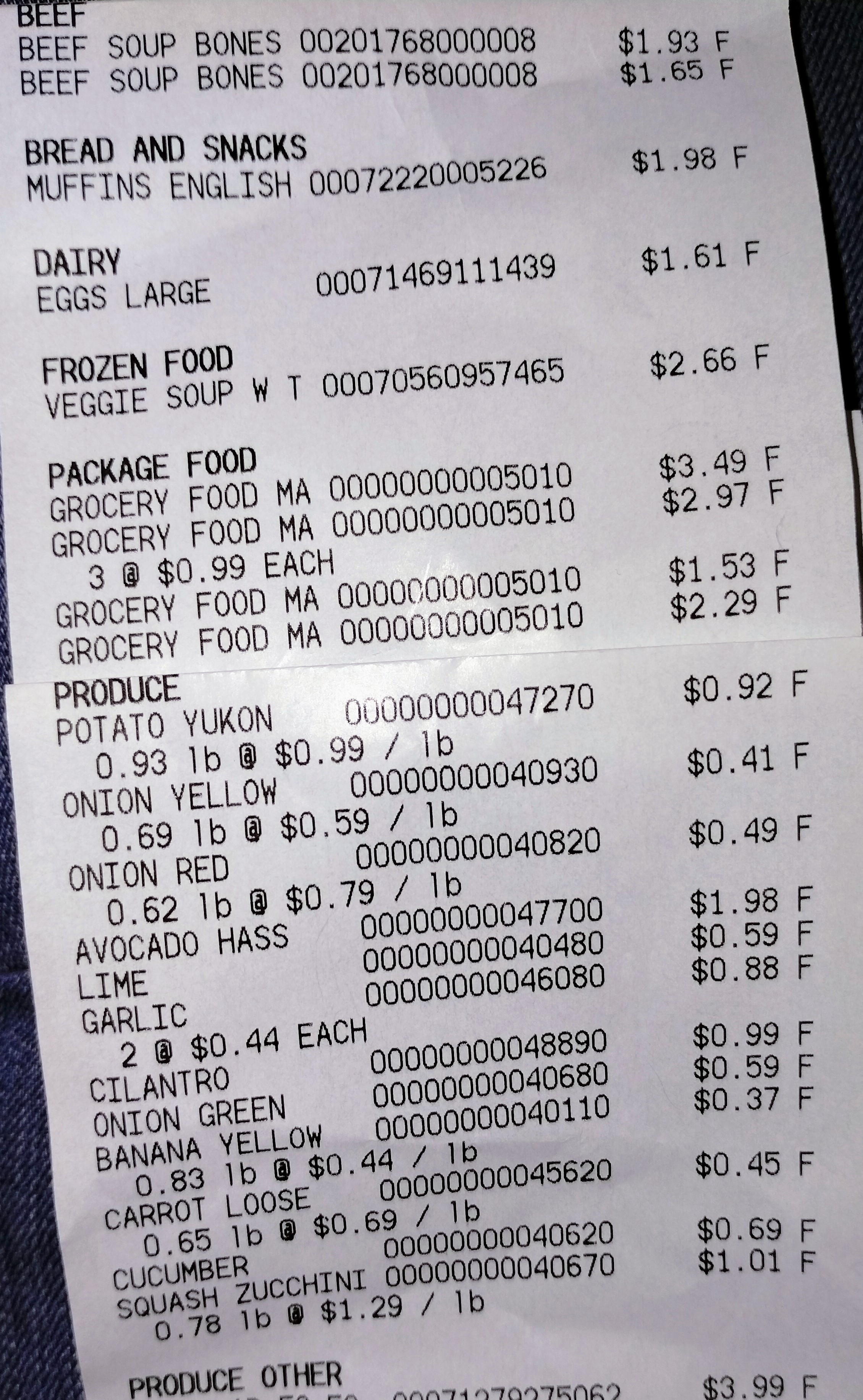 United States
January 19, 2023 9:50pm CST
After I picked up my mail that was being held at the post office, I went over to the commissary to buy a few groceries. This is what I bought: Two pkgs beef bones One dozen eggs One pkg English muffins One pkg frozen soup veggies One pkg frozen black eyed peas Three pkgs frozen spinach One large bag frozen berries One large clamshell container salad greens Two heads garlic One avocado Three potatoes One red onion Three small yellow onions One lime One bunch green onions One bunch of cilantro Two bananas Two carrots One cucumber Two zucchini squashes I also got a couple of other things that I needed that were not food. The total for everything, including the 5% surcharges: $43.72. This, plus what I have in my freezer, pantry, and refrigerator, will be my basis for cooking for the rest of the month. We'll have to see if I can make that work without having to shop again until February. Or I may go to WinCo tomorrow to see what is on sale. Photo is mine of part of my receipt.
7 responses



• Los Angeles, California
21 Jan
@TheSojourner
Bring it on

. . . would love to catch up with you

!

• United States
21 Jan
@much2say
give me a few days to settle in yet!

• United States
20 Jan
It's so good to see your name come across! I have so much to catch up on. And I have so much to share with you one on one.


• Philippines
20 Jan
I love how you have such beautiful photos as profile picture. Also your frugal cooking challenge makes me feel less anxious about losing my job and retirement. When we know we can live well with very little it makes us feel more financially secure.

• United States
21 Jan
Oh, Arya, thank you so much for saying those kind words. I know that things right now are tough for everyone. After going grocery shopping yesterday and today, and seeing the way the prices are shooting up, it's crazy. So I'm going to have to redo my thinking a little bit, too, but I'm not going to get scared. We just have to keep our wits about us, and our hearts open, and make sure that we learn to do things a little differently. I'll keep sharing my thoughts, and hopefully it will offer some kind of ideas that will work for you.

• Roseburg, Oregon
20 Jan
You did get a good deal on the food that you got. WinCo[ bought the old Kmart building and are going to tear it down to build their own store. It will probably be a year until it is build.


• United States
21 Jan
I know that they're doing more and more around. I'm glad that you're going to get one even though if it's a year away. It's exciting to see it go up and then opening day was wonderful.


• United States
21 Jan
I thought so too. Thank you

• Lake Charles, Louisiana
20 Jan
A good way to buy items you need and stay within your budget.

• United States
20 Jan
That's a lot of food. Good shopping.

• United States
21 Jan
Thanks. I'm really surprised.

• Defuniak Springs, Florida
20 Jan
I will go to the dent and bent tomorrow and then probably by the Thriftway to get some meat. But other than that I don't plan on spending any money besides going to the pharmacy in the morning and getting my new meds.

• United States
21 Jan
I hope you're able to get some good deals on what you need.