Chilly Monday morning with art and more on my mind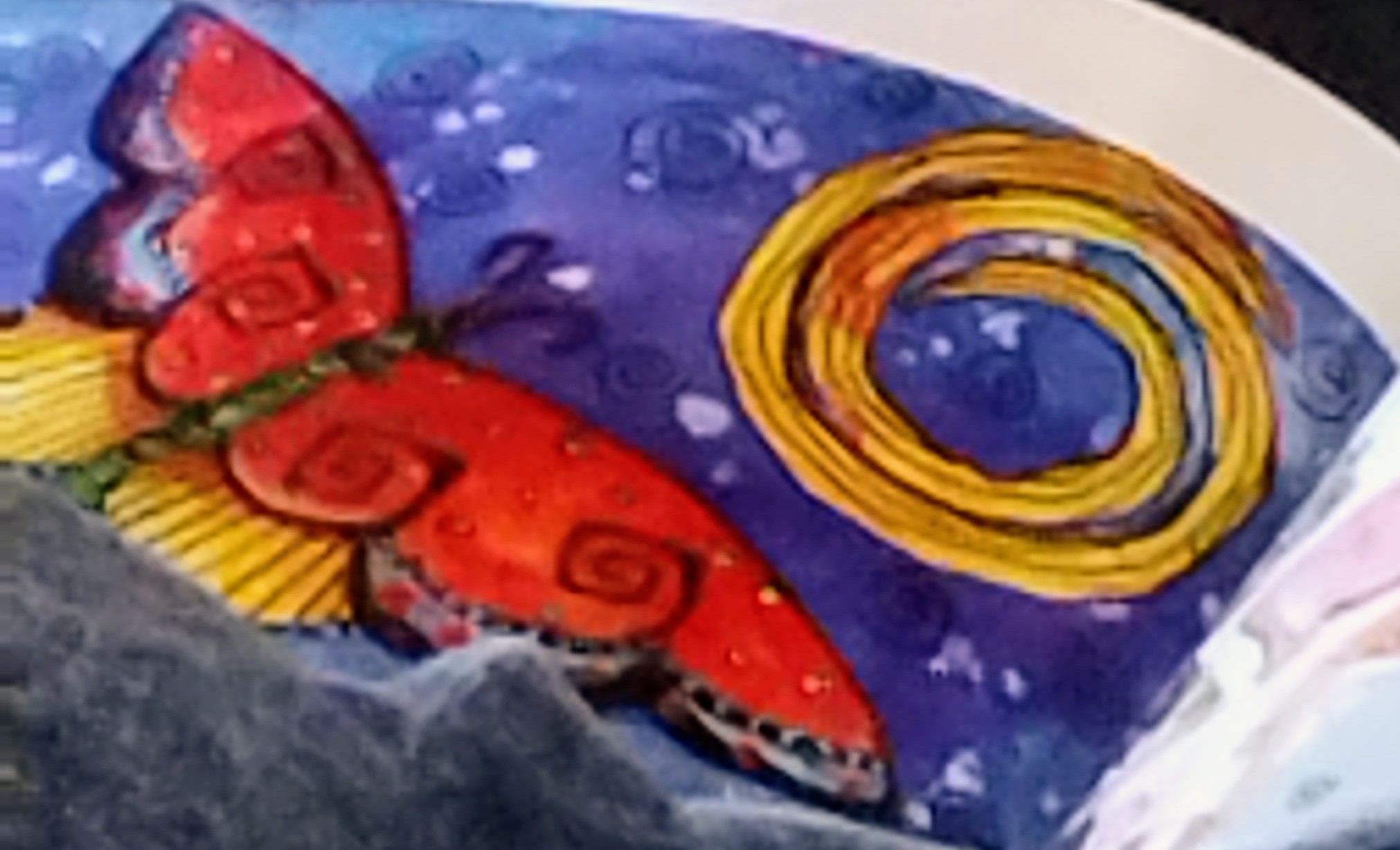 United States
January 23, 2023 10:50am CST
Good morning! It is 8:30 and I am dressed and ready to walk out the door, but not without greeting you! It is currently 38°F/3.3°C. it is forecasted to be a high today of 45°F/7.2°C. A new week has started, and I have a lot on my plate, but I'm bound and determined to continue on my path towards some changes I want to see. I am confident that I'm moving in the right direction! Yesterday, I went to a clothing exchange that was hosted by my daughter. I left a huge box and a laundry basket, both full of clothing, shoes, and purses. I brought home one sweater that is new to me. In fact, it still had tags on it, so it had never been worn. I was happy to see that two pair of nearly new shoes, a jacket, and a brand new evening gown that I brought actually found homes with some of the ladies that I met. It's nice to see people wearing something that I liked go home with somebody else who likes them! There were so many clothes that people had donated, and my daughter will be going through all of them to sort and it will be given to a women's shelter in the next few weeks. Today, I'm on my way to pick up a box of little boys' clothing that I will be sending to one of my nieces for her boys. It is coming from one of the ladies in the Buy Nothing group to which I belong. Hopefully, I can get them off in the mail tomorrow. I'm not sure exactly how much is being passed along. I have a Friday appointment with my oncologist in Seattle. It's been a little over a year since my last scan, and I don't think I'm going to be getting scanned this time. However, we do need to take a look at everything, especially in light of the emergency room visit several months ago. I suspect that there may be a new blockage starting with some small, unseen tumor somewhere. This week, I want to clear another certain place of things that have piled up and go through them. I also want to prepare a certain area, a place where I can create. Eventually, I want to turn the second bedroom upstairs into some sort of studio, with everything centrally located. However, I don't want to delay my creative process, before it's finished. Well, I better get going before it's 9:00 a.m. Have a wonderful day and week ahead! Photo is my own of something I found in a magazine that spoke to me. It is NOT my art, but I love the colors and the images. This is giving me some inspiration.
9 responses

• United States
23 Jan
Well how the heck are you!!!! I hope you have a good week, too. Very busy, but make sure you take a little time for yourself!

Nothing exciting here. I have a check from the Equifax data breach settlement to put in the bank (I get $5 for my data being compromised….the lawyers got $30 million

) and try to find some more of that Mylanta that works so well.

• United States
23 Jan
I didn't put my name in because it just wasn't worth it to me. Friends that got theirs.. I had two others that got their $5 and change. One of them, who used to be a bank branch manager, said it cost more to process the paper and checks then the amount that each person gets! LOL I hope you're able to find your mylanta relief! Is that hard to come by?

• United States
23 Jan
@TheSojourner
— yes and no. Regular Mylanta is easy to find; however, I like the chocolate mint flavor that's about as thick as yogurt, and that
is
hard to find.

• United States
23 Jan
@FourWalls
looks like Amazon has it. If you have the prime or no someone else who does, you can get it with no shipping charge.


• Boise, Idaho
23 Jan
We have a YWCA here that I usually donate to. Or used to anyway when I was working and had nicer clothes. Your artwork is always so bright and pretty.


• Boise, Idaho
24 Jan
@TheSojourner
........I have started collecting pictures from magazines to start a collage. I need something for this one bare wall in my room. Inspiration is a grand thing to be sure.

• United States
24 Jan
@celticeagle
We worked a lot with collage last week. I really need to share more of what I did, but would like to do it via blog, if I can figure out what/where I want to write it.

• United States
24 Jan
Thanks. I look forward to this (in the magazine) in hopes to inspire me.


• Marion, Ohio
24 Jan
Glad you found a sweater and some of the clothes got a new home

• United States
24 Jan
Thanks. It was more fun to see my daughter in her element with friends of all walks of life. I haven't had the opportunity to see her in this way, under the circumstances of her life from 19 to 44. It's nice to see her having come/coming into her own finally.

• United States
24 Jan
@wolfgirl569
It's been a long time coming. I hope to live long enough to see her bloom.

• Marion, Ohio
24 Jan


• San Jose, California
23 Jan
Wow, you do have quite a lot going on this week. I'm glad you had a good time at the clothing exchange too.


• United States
24 Jan
@spiderdust
That's great. I think they will come down, but it may take a little while.

• United States
24 Jan
I actually went out and spent a bit more money on grocery items. I also found that eggs went up by a dollar at the commissary from a few days ago. I didn't buy any of them today.

• San Jose, California
24 Jan
@TheSojourner
I keep hoping they'll come down soon, but I'm not sure when that's going to happen. I'm glad I was able to snag 3 cartons of liquid egg whites from the culls fridge at work last week, they've helped me stretch out our eggs a bit.


• United States
24 Jan
I have a ton of clothes that need to be gone through and donated. I just need someone to take them to Goodwill. I hope your appointment goes well. I will be thinking about you. Have a good day.


• United States
24 Jan
@LindaOHio
now is the time. There are so many people that don't have, and with winter, it would be so nice to have those clothes. And then as they're setting up household, especially after a domestic violence situation, many of them walked out with absolutely nothing.

• United States
24 Jan
Maybe you have a donation center that will pick up? I know that the disabled vet organization oftentimes does that, but we don't have one of those in our area that does. But in your area you might.

• United States
24 Jan
@TheSojourner
Yes they do. I will have to set up something like that. I have a lot that can go.



• United States
25 Jan
Thank you, Carol. I do have my moments of positivity...as well as negativity. Finding the balance is key, I suppose. I struggle with it constantly.

• United States
26 Jan
@TheSojourner
Life is all about that balance indeed. I definitely. know what you are saying.

• Los Angeles, California
24 Jan
Good changes

- I'm trying to do the same. The clothing exchange seems to have went over well! Keeping you in my thoughts for Friday. Ohhh, a studio would be nice . . . we want to do that with the garage but we gotta get rid of all the stuff first! I can see how that magazine image speaks to you

.

• United States
25 Jan
It's a magazine called Somerset something or other? I have to go look it up again.

• Rockingham, Australia
24 Jan
That's great that you've come home motivated to continue your artwork and also continue the decluttering you've been doing.

• United States
24 Jan
Thank you, Judy. I've done not much of either in a week. LOL

• Southend-On-Sea, England
23 Jan

• United States
24 Jan
Thanks. I hope it inspires me.