Frugal Living: I splurged this weekend; frugal does not always mean cheap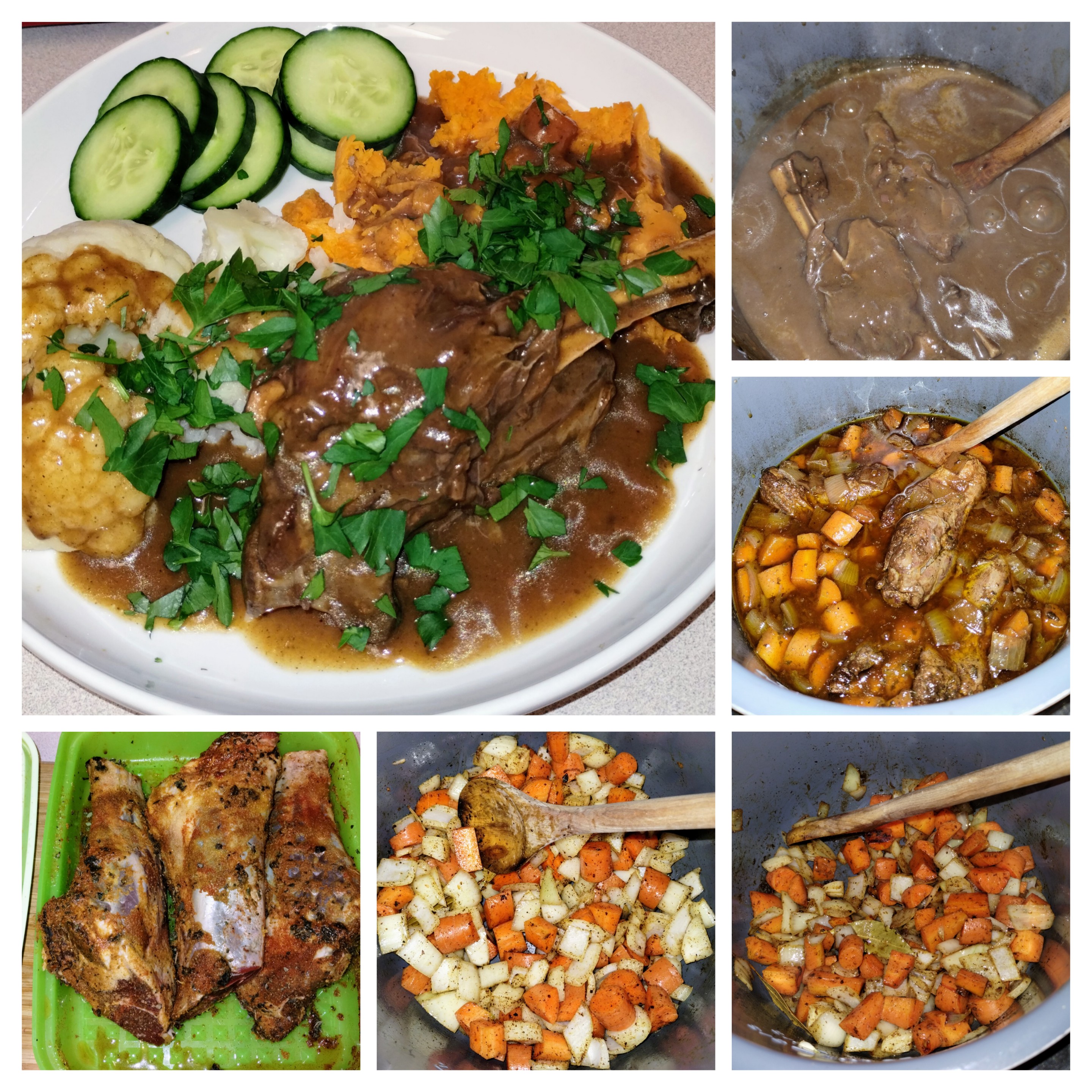 United States
January 29, 2023 8:42pm CST
A lot of what I do is very quick cooking. Today, I decided to do something a bit different. It was also a lot more expensive than I typically spend for my meals. But I did get the lamb shanks for a reduced price. So, even though this is not a cheap meal, it is still frugal. I used the electric pressure cooker to cook this meal, because lamb shanks really need to be stewed. The pressure cooker cuts that time way down. My ingredients for the main dish: Three lamb shanks $7.50 2 Tbsp olive oil $1.00 3 carrots $0.30 1 onion $0.30 1 c. red wine (given to me by a friend) 1 c. balsamic vinegar (I use inexpensive brand for cooking) $2.00 4 c. Beef broth (I used water and four teaspoons of "Better than Bouillon®" ) $0.35 Bay leaf, cinnamon stick, garlic powder, cumin, oregano, and other spices $Unk Chopped parsley $0.15 Cornstarch to thicken For under $12, I made this pot of wonderful food. If I were to take the meat off of the shanks, this would easily have served six, though I actually ate one shank by myself tonight. (The gravy was all of the liquid, carrots and onions blended up with my immersion blender and thickened with cornstarch.) This would have been a perfect meal to have served with rice, mashed potatoes, or noodles. I ate mine with mashed sweet potato and cooked cauliflower. I spent approximately $5 or $6 on my dinner tonight, which would have easily cost me four to five times this amount had I ordered something comparable in a restaurant. My plans for my leftovers (two shanks, and all this luscious gravy/juice): I cut the meat off the bones, added the meat back into the pot, and I have roughly six cups of meat and gravy. I can use part of it as a base for a stew by adding root vegetables. Or I could add mushrooms and onions to a portion of it to serve over rice or noodles. By doing this, I'm actually stretching this meal far beyond a six-serving meal. I enjoy cooking wonderful meals for myself and others, using some of the frugal practices that I try to employ regularly. They aren't always cheap, but they are always a bargain. Photos and collage are my own.
10 responses

• Defuniak Springs, Florida
30 Jan
I haven't had Lamb in a looooong time.

• United States
30 Jan
Now that I know I can get them on sale at WinCo from time to time, I'll probably eat it more often.

• Defuniak Springs, Florida
30 Jan


• United States
30 Jan
Outstanding job!! Beats what I had (overcooked brisket).

• United States
30 Jan
Did you overcook it? Or did you have it served to you as it were overcooked? I'm so sorry. I would probably take that brisket and add it to some sort of a barbecue sauce and make pulled beef sandwiches!

• United States
30 Jan
@TheSojourner
— it was in a restaurant. It's okay, it'll make a turd.


• United States
30 Jan
@FourWalls
That's when I take it home and make soup out of it! The brisket, not a turd.

• Boise, Idaho
30 Jan
That is a lot of food in the photo. You do a great job. My grandson would want the mushrooms option. He loves mushrooms.


• Boise, Idaho
30 Jan

• United States
30 Jan
A lot of it has to do with how I photograph it and the size of the plate. However, it was a good size dinner for me, but I'm eating twice a day. I thought about going out and buying fresh mushrooms, but I just realized that I have dried forest mushrooms in my pantry. Thank you for that reminder!



• United States
30 Jan
Thank you. Do you guys eat lamb ever?

• United States
31 Jan
@wolfgirl569
I I would imagine that lamb and the baby goats taste similar. ;-)

• Marion, Ohio
31 Jan


• United States
30 Jan
I no longer eat lamb. My husband loves it.


• United States
31 Jan
@LindaOHio
oh, I misunderstood. I thought he loved it and ate it. I think it sounds delicious how she cooked it.

• United States
30 Jan

• United States
31 Jan
@TheSojourner
He hasn't had lamb since he moved away from home. My MIL used to make lamb shanks - slow cooked in a broth with veggies until the meat fell off the bones.


•
30 Jan
We ate lamb quite often when I was a child. Now, it is so expensive it is a big treat. I hardly ever find it on sale or marked down. I haven't had it in ages, my oldest daughter loves it as well. We were talking about it the other day, so I have a feeling her husband, who loves to cook and does it so well, will be treating us to lamb before too long.We planted the seed! Looks absolutely delicious and I bet it was.

• United States
30 Jan
It was so good. Now I have over a liter of the gravy, which is the blended carrots and onions, all of the meat and beef juice with the other liquid, and I just used a little cornstarch to thicken it a bit. I'm going to add some forest mushrooms and serve with some egg noodles, I think. Maybe not today but tomorrow.

• United States
30 Jan
@MarieCoyle
there are very few of us, I have found, who think like we do. My sister,
@SonjaRae
, is one of them. You are another!

•
30 Jan
@TheSojourner
I love converting one meal in to another meal. It's kind of like a puzzle and you fit the pieces together until it works!




• United States
31 Jan
You make me just want to hug you!



• Toccoa, Georgia
30 Jan
All the food looks delicious. It has been a very long time since I had lamb.

• United States
30 Jan
It had been a long time for me, as well. That I could find it on reduced price, made the decision easy for me. I still have two shanks up in my freezer, and I have a pound of ground lamb. I am probably going to make some lamb burgers soon. I found this YouTube video featuring one of my favorite chefs of all time. I got to meet him when I was living in New Orleans many years ago. I came across this the other day.

Your browser isn't supported anymore. Update it to get the best YouTube experience and our latest features. Learn moreRemind me later

• United States
31 Jan

• Toccoa, Georgia
31 Jan



• United States
30 Jan
Thank you so much! It was absolutely delicious. I have over a liter full of the gravy and I took the meat off the other shanks and cut them up. I have some dried forest mushrooms in my cupboard that I will reconstitute and probably use those with it. And I'm thinking this would be really nice with pearl onions and served over some egg noodles. Any other ideas?

• Switzerland
31 Jan
@TheSojourner
Served over egg noodles seem the best way to serve it with wild mushrooms and pearl onions. We would also serve with polenta, but I know you do not like it.


• United States
30 Jan
Thank you so much. I wish I knew what my style was! LOL