Healthy, Frugal Living w/a splurge now and then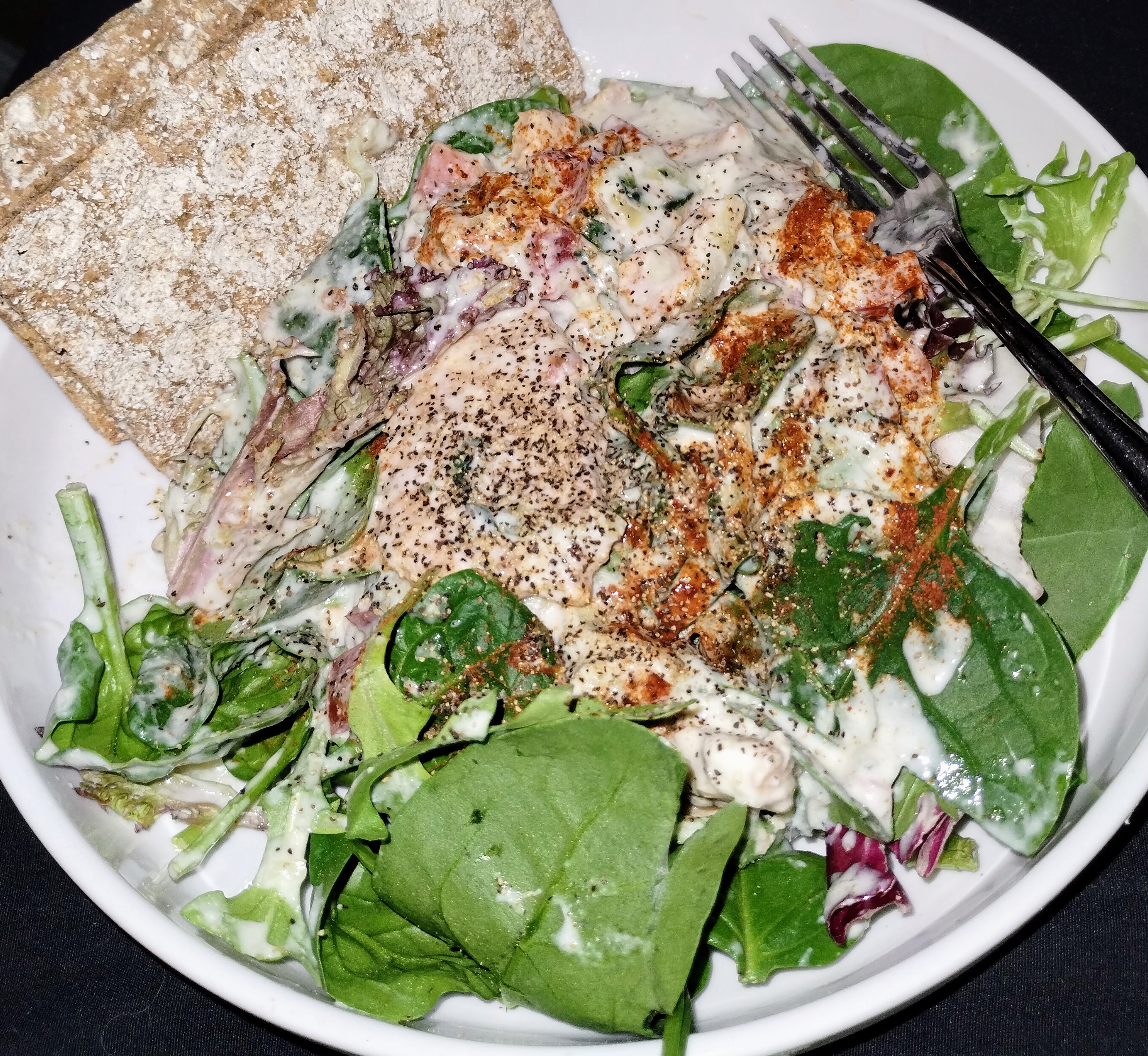 United States
January 31, 2023 3:25pm CST
On the day each month that I go in for my monthly injection treatment early in the morning, I stop afterward to Lone Star Donuts, the new donut shop in my area. I tried to keep it to one time a month for that splurge. I certainly don't need to spend the money or add those calories! However, I don't beat myself up for that guilty pleasure! This morning, I had two donuts: One was a plain cake donut, and the other was a cake donut with maple glaze and bacon atop. I also had black coffee. Today, for my lunch, I took my remaining cucumber and tomato raita from last night and added a couple of handfuls of salad greens. I can really taste the fresh garlic that I grated into it last night. It's much stronger than it was yesterday, now that some of those flavors have had a chance to sit. A tuna packet with lime and chili flavor (that I got on sale for $0.40 per packet) was also added for a good protein source. I always enjoy a salad like this with a couple of Swedish style knäckebröd. I am finding myself eating a lot differently this month, as I am becoming more conscious of what I eat and in what combinations. Even as we make decisions have our guilty pleasures from time to time, we can still stay on track. Photo is my own.
9 responses

• Cagayan De Oro, Philippines
31 Jan
I had starve myself.of some sweet cravings last few months because I was conscious of my sugar count. Last week I registered a 118 mark against the 220 count last months ago. I am now craving for ripe mangoes and egg pie.

• United States
1 Feb
I'm so glad you are getting it under control. Mine was a little high last month at 112.

• United States
1 Feb
@florelway
I have been to many fiestas in the Guamanian and Filipino cultures. I also understand the free-flowing of soda! LOL

• Cagayan De Oro, Philippines
1 Feb
@TheSojourner
that's still fine at 112. Must always check to monitor. I hope I can totally get rid of sodas but during occasions like bday and fiestas they serve sodas which is a good match for all meat preparations.


• Boise, Idaho
1 Feb
Those donuts sound good. We have a place here that makes sourdough donuts. I like plain cake donuts rolled in sugar and cinnamon. Food consciousness and such is something I should do more of. I like certain foods so much it is very difficult.


• Boise, Idaho
2 Feb
@TheSojourner
......They have a richer flavor than the usual cake donuts.

• United States
3 Feb
@celticeagle
I can imagine. I've also read recently that sourdough bread is much easier for us to process in the gut than others.

• United States
1 Feb
I would love sourdough donuts. YUM.


• Los Angeles, California
2 Feb
Right - a donut every now and then won't kill us. But put a box of 'em in front of me and I can't promise what will happen next

. As long as we are being mindful about what we eat most of the time, the occasional sweet treat is fine

.


• Los Angeles, California
3 Feb
@TheSojourner
Same way of thinking here. It is cheaper to get the dozen, but we don't need to be eating all that. Although it's tempting


.

• United States
3 Feb
@much2say
At least you have four or five people to split that dozen! I buy a dozen, and it all goes to my butt.

• United States
2 Feb
When I went in, she asked me if I were going to get a dozen donuts. All I could think of is that if I got a dozen, I would eat the whole dozen! Seriously! I know I pay more for the cost of each donut that if I bought a dozen of them, but I don't need $20 on my butt to try to work off.


• Lake Charles, Louisiana
31 Jan
I eat donuts from time to time as long I do not overeat.

• Lake Charles, Louisiana
1 Feb

• United States
1 Feb
@Deepizzaguy
I'm not sure what you mean by your taste buds going bad.


• United States
1 Feb
I love cake donuts with a cup of coffee.

• United States
1 Feb
Yes, they are my favorites, too, which is why I limit it to one day a month, one or two donuts only. Now, I need to get my butt out there and work those calories off.

• United States
1 Feb

• United States
1 Feb


• Defuniak Springs, Florida
1 Feb
I miss Voodoo Dougnuts. We had one in Portland, and they were delicious.

• United States
1 Feb
I went to the store, but the line was more than an hour and a half long wait. Nothing is worth waiting in line like that, unless it was for tickets to see Elvis Presley. I waited there for nearly five hours to buy tickets. LOL

• Defuniak Springs, Florida
1 Feb


• United States
1 Feb

• Daytona Beach, Florida
31 Jan
That salad looks really good, I have not had doughnuts in a long time,

• United States
1 Feb
Thanks. I probably shouldn't eat these even once a month. LOL