The last day of the month of January 2023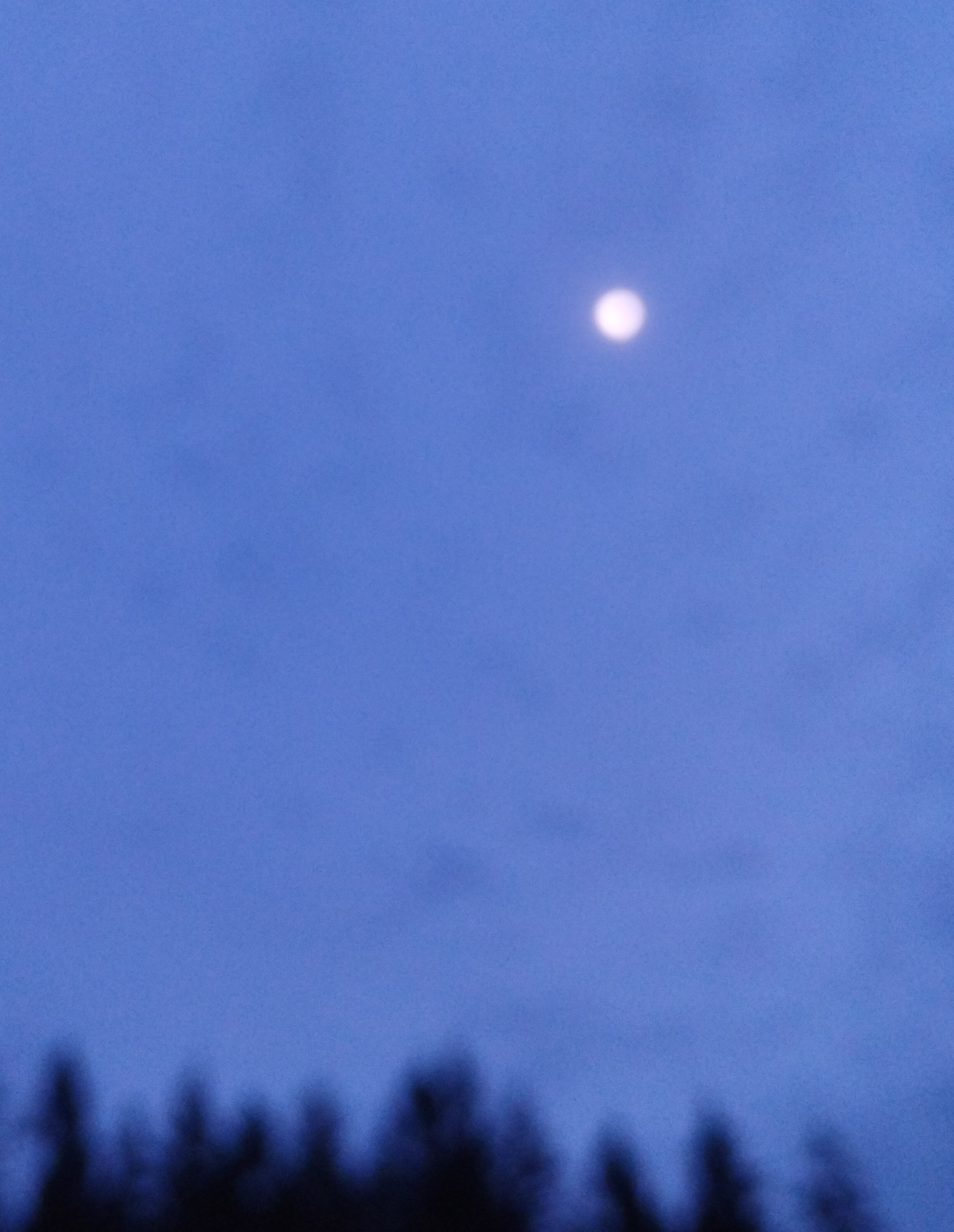 United States
January 31, 2023 8:39pm CST
It's the last day of January, and I can hardly believe it. Maybe it has gone by so quickly, because I was gone for 9 days? Or, maybe, it's just because time passes more quickly as we get older. I can tell that the days are getting longer. Tonight's sunset here in Silverdale, Washington was it 5:10 p.m. A month ago, it was about 4:20 p.m. Tonight, we do have some clouds, and that is making things a little warmer than the freezing temperatures we have had the last few nights. I also noticed our moon. This was taken just before 6:00 p.m. Cooper has been alone off and on for the most of the day. He was definitely more upset with me when I came in a bit ago, than when I left him this morning, while I went to my doctor's appointment, and then to the commissary. I was gone for 3 hours this morning, and nearly 4 hours this afternoon. But, I don't see any evidence of him having any wild parties, or tearing anything up, so he seems to have weathered it okay. I won't leave him tomorrow, at all. In fact, I have quite a bit planned for the two of us. But that's for another story. I hope everybody had a good day today. Photo is my own, taken with my Motorola G 2022 camera phone.
9 responses

• Defuniak Springs, Florida
1 Feb
This post reminded me that I needed to change out my calender. So I just did that. LOL.

• United States
1 Feb
And I shall do that tomorrow of the one calendar I have

• United States
1 Feb
Another month down the drain...and that much closer to spring and longer days. I'm glad Cooper managed to handle himself home alone.

• United States
1 Feb
Was it a bad month for you ("Another month 'down the drain'...)? I am glad that we are getting closer to spring and brighter days! Only 7 more weeks to spring!

• United States
1 Feb

• United States
1 Feb
@TheSojourner
Well, the basement is still flooded and we have no hot water. The guy is here right now.


• United States
1 Feb
I had a wonderful day. Everyone at home is good because the ice went south of Louisville, and I'm in Florida enjoying myself. You give that sweet boy a kiss for me!


• United States
1 Feb
And where are you visiting in florida?

• United States
1 Feb
@FourWalls
Tell Mr. or Ms. Gainesville that I said, "Hi!" We have a lot of myLotters from FL. How much fun you will have!

• United States
1 Feb
@TheSojourner
— I'm in Gainesville to have lunch with a myLotter. Friday another one. Then up and down the coast.



• United States
1 Feb
I am glad that your "G" has you as his advocate. I hope the appointment today goes well. And yes, much more quickly, Anna.

• United States
1 Feb
@LadyDuck
I am glad that today's appointment is over. Relax this afternoon. It sounds like you might both need it.

• Switzerland
1 Feb
@TheSojourner
We are just back from the hospital, it has been very long. Now we have more details and more appointments to follow.


• Marion, Ohio
1 Feb
Glad he was a good boy and didn't party while you were gone

• United States
1 Feb
He wasn't as worn out, as he typically is, but that's understandable. He could have done the dishes and vacuuming, though. I have to talk to him about that!

• San Jose, California
1 Feb
I had a decent day today. I've been a little busier than usual; between kids getting sick and a household member both picking up DoorDash shifts and going back to school, I've not been online much. We did have one lovely moment this week when the 17-year-old tried on his first tuxedo to rent for his school's winter formal. I watched him and his dad as they had this adorable male rite of passage with the picking out of the first suit.

• United States
1 Feb
You are response made me smile so much. Very cool moment.

• San Jose, California
1 Feb
@TheSojourner
I realized, while I watched them, that I was witnessing a first for both of them -- one had never gotten a tuxedo before and the other had never taken a son to try one on before. And I was lucky enough to get to be there for this moment.

• United States
1 Feb
@spiderdust
You just gave me chills, and a tear in my eye.


• United States
1 Feb
January was nice to me, as I had over a week in Mexico. It was something I really think I needed, and it gave me some new perspective. I hope that February is kind to you. I have an event that I signed up for for the month through the Taji100 that supports veterans.

• Rockingham, Australia
1 Feb
You have to wonder sometimes when dogs get up to when their owners are away.

• United States
1 Feb
I have thought seriously to buy some security cameras for indoors to see what he does.

• Rockingham, Australia
2 Feb
@TheSojourner
I know there is a clip somewhere where the cat would continually flush the toilet and watch the water disappear. The people couldn't work out why their water bill was so high!


• Philippines
1 Feb
You're very sweet with Cooper caring for his feelings and all even planning a day together. I have slowed down hugely and I dont accomplish as much as I would want to.

• United States
1 Feb
I have a goal this month, as I signed up for an "event". It's my 4th year of the Taji 100, which is an event supporting veterans.