4 days into the challenge and more than 15 miles!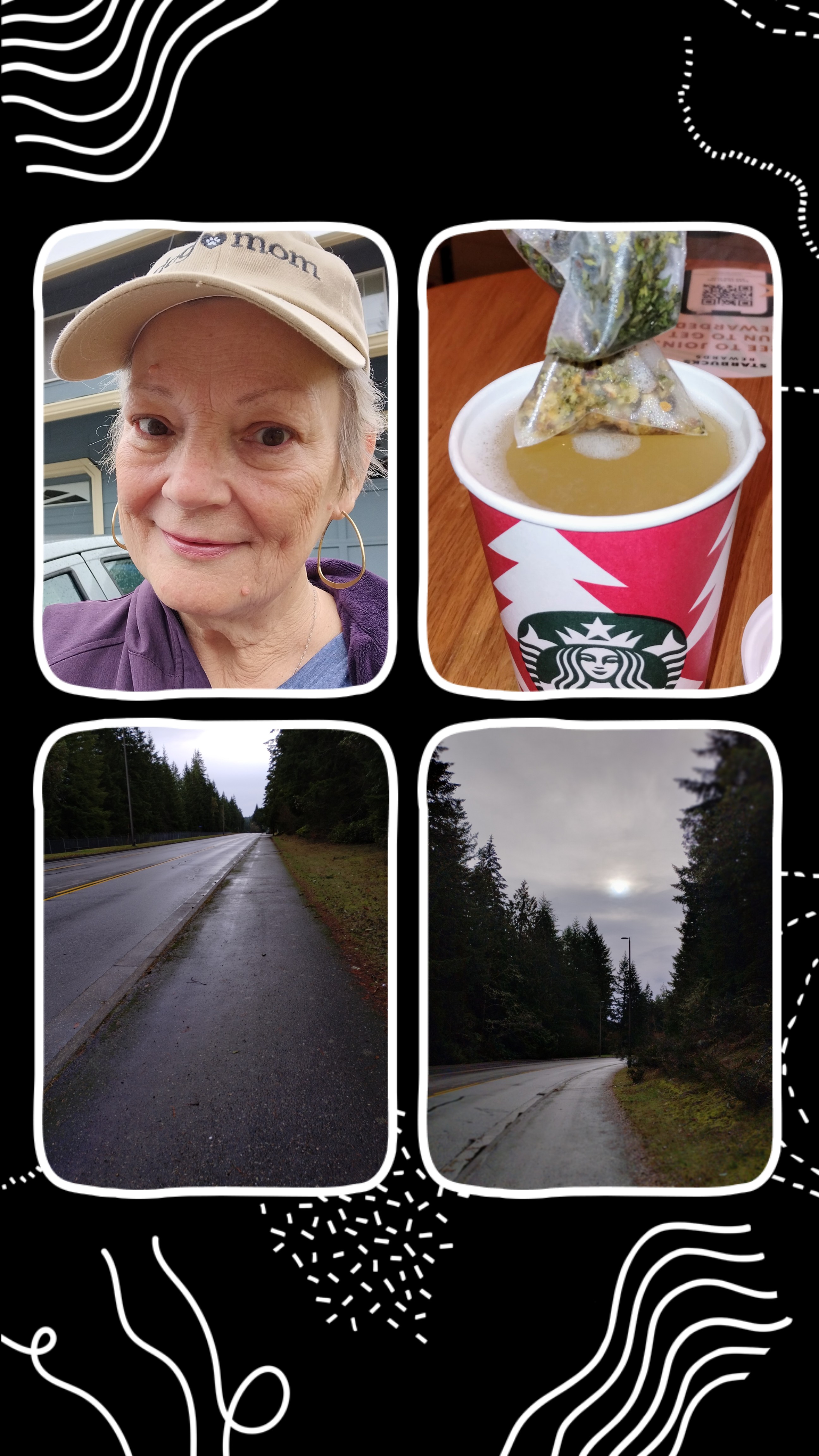 United States
February 4, 2023 11:22pm CST
Today was the 4th day of Taji100 (100 miles for the month of February), and, like yesterday, it was raining, though not quite as hard. I was feeling really dragged down emotionally today, and I saw it in my face this morning. Thankfully, I was able to get out for a couple of hours without Cooper. Some have asked me why I don't go to the gym and get on the treadmill, especially when weather is so miserable up here in the Pacific Northwest. What I know to be true is that it's easy to stop, when you're on the treadmill. But when you walk somewhere, you have to walk back. That's one of the ways that I try to keep myself moving. I can tell that I'm not as strong as I once was. But, as long as I have life, I'm going to keep moving. This is what I can control. This morning I walked from my home to the Starbucks here on base. It was 1.66 mi. I was feeling pretty weary, so I went in and had a citrus mint tea, and simply relaxed. The music was old jazz vocal standards, which I enjoyed immensely. I took another route home, and walked 3.2 miles. I was really starting to get tired today, and wondered whether I would make it or have to call someone to pick me up part way. I continued to plod along. I often wonder why it seems that this is so hard, but then I remember that I'm getting older. I will never use my age or my diagnosis, or anything else as an excuse not to do the hard things. I just have to remember to give myself grace. My day 4 miles walked: 4.86 15.16 miles down... 84.84 miles to go! Photo collage is my own.

What is this Taji 100? Why exactly are you on this mission called the Taji 100? Why do you want to push yourself so hard? These questions, and many more, have...
8 responses

• United States
5 Feb
Wow, you wore me out just by reading this!



• India
5 Feb
@FourWalls
That means you need some capsules or tonic to enhance your capabilities!!


• India
5 Feb
@FourWalls
That is good!! I too am trying to do good enough and regular walk!

• United States
5 Feb
It was just a lot of walking. I'm glad I did it. I'd really like to get back to the time when I can walk 10 miles in a day. It won't be this month! LOL


•
5 Feb
That is wonderful, that you are walking so much. Heck, I probably would have had to have a double or triple espresso to get that much accomplished! Good job. I got my exercise today making my son a birthday dinner and a tiny cake. He seemed happy about it, and said it was good, so I am glad I did it. We just had a very quiet birthday dinner with just us this year, which is what he requested. I I am hoping for a good night's sleep so I can get some things done tomorrow that I meant to get done today! Hugs to you and Cooper.



• United States
5 Feb
Happy birthday to your son! It sounds like it was a lovely day! What did you make for dinner?

•
5 Feb
@TheSojourner
I always let them pick their own menu for birthday dinners. His choices are always things that aren't good for us, but on a birthday, if we can manage it, we do. We had sirloin roast with mushroom and onion gravy, Yukon Gold mashed potatoes, fresh broccoli, rolls, and salad. I took a tiny serving of each and that was it for me, but he ate 2 huge platefuls of everything and is taking home the leftovers. He absolutely loves mashed potatoes and gravy; he never seems to tire of it. Oh, I made a little cake, but he wants us to eat it another day as he is full. He polished off the huge meal he ate with a cup of coffee and a bowl of sherbet!! I don't know where he put it all, I would have been sick!

• United States
5 Feb
@MarieCoyle
it sounds wonderful. And you certainly know the way to his heart, which seems to be through his stomach! LOL


• Boise, Idaho
5 Feb
Yes, there is the walk back. I used to jog 7 and do the return trip too.


• Boise, Idaho
5 Feb
@TheSojourner
.........I was rather proud of myself back then. I sure couldn't do it now. I used to enjoy a long walk.

• United States
5 Feb
@celticeagle
you should be proud of yourself. And, you might not be able to do it all now, but you could do a little bit.

• United States
5 Feb
I've never been a great runner. But I can walk for a long time. I just don't get there as fast! LOL I admire runners who are able to do so.


• India
5 Feb
You are doing pretty well as per the Target in hand. With a great doggedness I must say. Today I was having pain in my right hand fingers due to certain exertion, driving many hours in heavy traffic etc. Now this makes me think how much you have to bear at your age and condition. You are a true inspiration here. Nice pictures! By the way, was the Citrus Mint Tea good? Or average? Nice Sunday wishes for you !!



• India
5 Feb

• India
5 Feb

• Roseburg, Oregon
5 Feb
That is good you are pushing yourself. I hope you keep doing good.

• United States
5 Feb
I'm doing what I can. I'm a bit worn down, and I noticed that I'm having a little bit of heart arrhythmia today. Nothing that is out of the ordinary. I think my heart is just wondering what the hell I'm doing! LOL

• United States
5 Feb
@jstory07
part of the symptoms with which I have to live because of this neuroendocrine cancer is crazy irregularities in the heartbeat and blood pressure. It's because of the serotonin that gets dumped into the bloodstream. It's the same thing that causes the diarrhea that's chronic and other things. My heart is actually quite good, it's just this cancer that wreaks havoc with every part of one system. I do take my blood pressure regularly, and it will Spike high and then drop down. It's not controllable with medication, so I do take a couple of things but not able to be controlled by that because of the cancer and the serotonin

• Roseburg, Oregon
5 Feb
@TheSojourner
Do you have a blood pressure cuff. Take your blood pressure to make sure you are ok.



• United States
5 Feb
I know what you mean. The rain is falling and the wind is blowing. It's kind of miserable out there, but I need to get something under my belt today.

• Switzerland
6 Feb
@TheSojourner
- Today seems very cloudy, but no wind. It is still too dark to know, but the cold is back.

• Marion, Ohio
5 Feb
You are doing great with it. That was a long walk

• United States
5 Feb
Thank you. I can barely get motivated today! But I need to.

• United States
6 Feb
Kudos. Great job! You are doing so well.

• United States
6 Feb
Thank you, Linda, I appreciate your support