First meal of the day & plans for March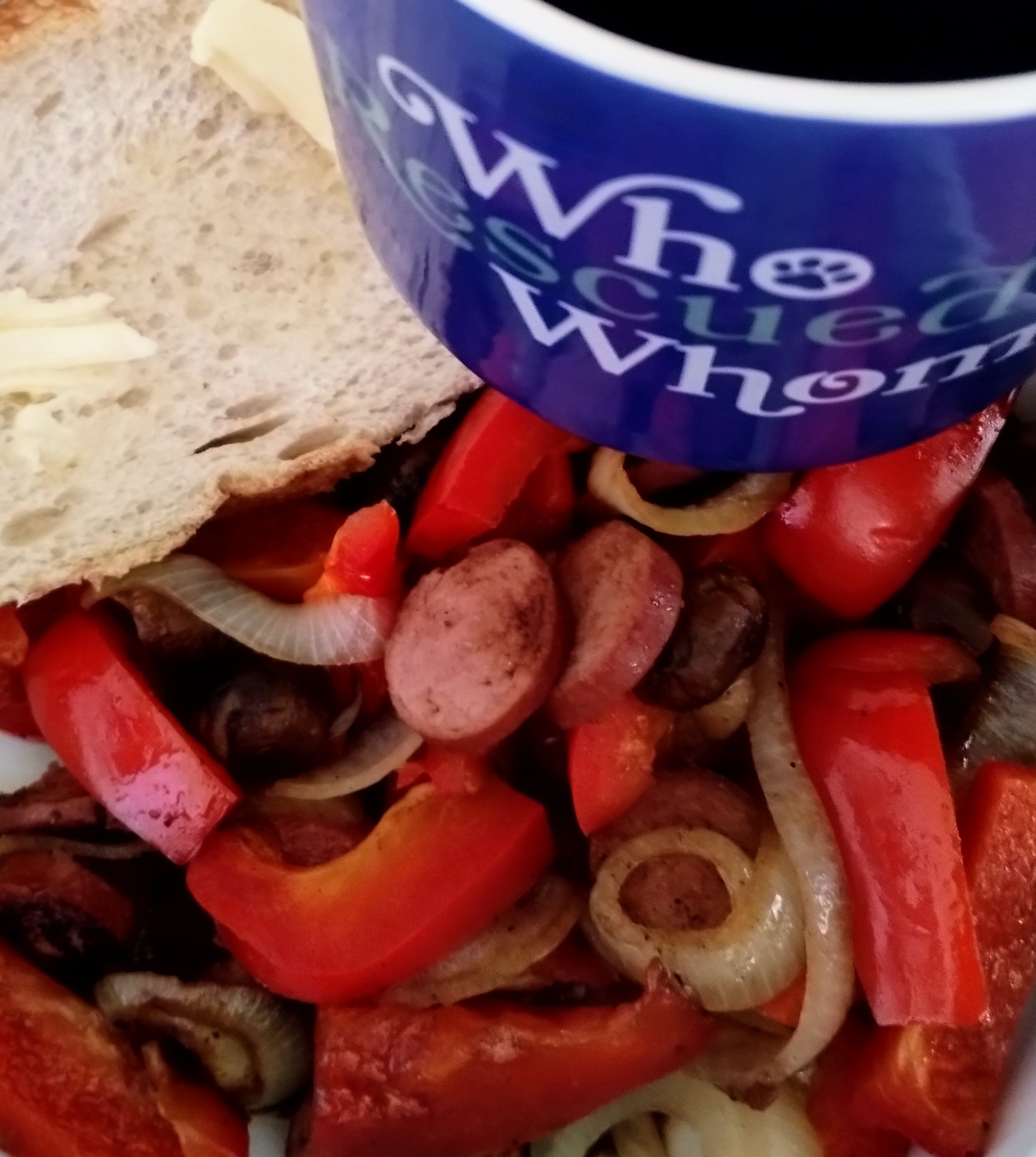 United States
March 3, 2023 1:13pm CST
As we're into March, my goals for the month are to stay active, and continue my attention to eating more healthily. February's 100 Mile Challenge was certainly a Kickstart to what I want to do this month and next month. Generally speaking, I'm eating two large meals per day, and having a small meal or snack to supplement it. I have not felt the need to eat three full meals per day, as long as I'm getting enough nutrients, and enough of the bulkier nutritious foods, which I find in eating lots of vegetables. My first meal of the day, I have eaten: --Two servings of smoked turkey sausage, 220 calories, $1.45 --one small onion, 25 calories, $0.10 --one medium sweet red bell pepper, 28 calories, $0.50 -- 7 crimini mushrooms, 15 calories, $0.70 --one half slice sourdough bread, 90 calories, $0.15 --one pat of butter, 35 calories, saved from another time --one cup of coffee, 2 calories, $0.25 Totals: 415 calories; $3.15 This month I am also going to concentrate on making sure that I'm active every day by using my Fitbit to keep me on track for steps. I don't think I will be doing 10,000 steps a day, but I would like to do 10,000 steps per day three times a week, and 5,000 to 6,000 steps on the other days. I will have to see if this is reasonable, or if I have to adjust it either up or down, depending on how I'm feeling. On March 1st, I walked well over 10,000 steps. Yesterday, I did over 6,000 steps. It's early in the month, so it will be interesting to revisit this each week or every two weeks to see if this is the best for me or if I need to alter it somehow.
9 responses

• Marion, Ohio
4 Mar
It sounds like a good plan. I usually get 10000 at least.

• United States
4 Mar
You are much more active than I am

• United States
4 Mar
@wolfgirl569
I did virtually nothing today. My body was saying that I just needed to rest a little bit. I will go ahead and be active tomorrow, and then Sunday if I need to run this thing I will. I don't know what's going to happen after seeing a photo of my daughter.

• Marion, Ohio
4 Mar


• Boise, Idaho
4 Mar
That's a lot of steps. I wonder how many steps I get in. Hm.


• Boise, Idaho
4 Mar

• United States
4 Mar
I did not do but 2000 yesterday.



• United States
4 Mar

I appreciate you keeping me on track

• United States
4 Mar
Sometimes, it's starting small. I remember when I first got my first fitbit, I couldn't do 2000 steps very easily. But I made that my minimum

• Philippines
4 Mar

• United States
4 Mar
Thanks for the update. It's good that you're keeping up your activity. Have a good weekend.

• United States
12 Mar
I windered how you were keeping track of your steps and I see now that it is a Fitbit. I use a regular pedometer. Fitbits seemed too complicated to me. But good for you on reaching your goal for February.

• United States
12 Mar
I wasn't using the FitBit the first half. I was using an app on my phone. Except...it was cutting out and having me walking across water and stuff.


• Utrecht, Netherlands
4 Mar
The first food is always good culinary. As for the March gastronomy that would be a good start for the third month of the year. That is one good example of a menu with a delicious ingredient along with its calories description. Hopefully it could get healthy for anyone to try it out on this month of March.