Older Woman - Younger Man

Bahamas
September 15, 2006 2:04pm CST
is it freely accepted nowadays?
8 responses

• Philippines
19 Sep 06
I think so, yes. More and more are having relationship of man being the younger than the woman, even more popularize by celebrities. greetings. : )

• United States
17 Sep 06
I think it is, where I live, I see it alot and if they are happy I think that it is wonderful. Everyone needs to be loved.
• India
15 Sep 06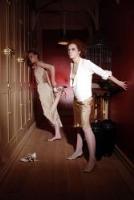 The sour taste may have to do with the fact that you're a woman, and you're not attracted to older men, so you associate those negative feelings with the older men-younger woman situations you observe. Every woman has a fantasy about getting it on with a mature, yet younger guy who can be satisfying in ways that a man her own age can't be. It's universal.


• United States
19 Sep 06
Can you really tell anyone who to be with?Regaurdless of age and gender, I don't think so, and it's actually the new trend.

• India
19 Sep 06
ya nowadays its the trend it has its own attraction too