Pippi Longstocking


United States
December 7, 2006 1:23pm CST
Do you remember the Pippi Longstocking cartoons? I always thought the movies were better. I didn't realize that Pippi started out in books from the 1940's, written by Astrid Lindgren. In case you don't know what Pippi is (and BTW, great for kids, for all you parents out there, you should teach them about Pippi, she's a good role model, teaches them about independence and orphans, etc), here's a bio:Pippi is a nine-year-old girl, who lives with a complete lack of adult supervision. This is due to the fact that her father is a sailor and is away at sea, and Pippi's mother died. Pippi is the strongest girl in the world and can even lift her pet horse ("Old Man") over her head. She also has a pet monkey, Mr. Nilsson. Her best friends are her next door neighbors Tommy and Annika Settergren. Pippi is the daughter of seafarer Efraim Longstocking, captain of the sailing ship Hoptoad, from whom Pippi inherited her common sense and incredible strength, being the only person known who can match Pippi in physical ability. Captain Longstocking originally bought Villa Villekulla to give his daughter a more stable home life than that on shipboard (though Pippi loves the seafaring life, and is indeed a better sailor and helmswoman than most of her father's crew). Pippi retired to the Villa after her father was believed lost at sea, determined that her father was still alive and would come to look for her there. I don't want to ruin the movie, so that's all I'm saying!:)
3 responses

• United States
8 Dec 06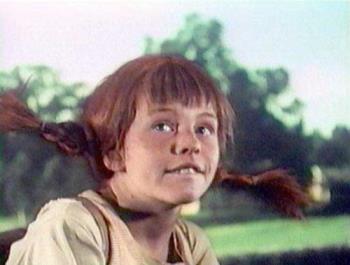 I LOVED the Pippi Longstocking movie!! It was my favorite movie when I was a little kid. I got to see it again recently for the girls I was a nanny for and it was so much fun to watch again!

• United States
8 Dec 06
I am going to watch it tomorrow or this weekend, my bf's honey do list for today included "Rent Pippi Longstocking from the video store" ha ha. OH BTW. Your name is mommytojack, your name isn't Michelle, is it? If so, I might know you! I have a nephew named Jack, he's about 4 years old, I think.

• India
7 Dec 06
well i dont know any thing you are talking about, any ways thanks for that piece of information.

• United States
7 Dec 06
It's a movie that came out about 15 years ago, I think. I was about 9 or 10 when I first saw it, I'm 24 now.