do u have any pets?

India
6 responses

• Malaysia
18 Dec 06
Yes, I have a dog called Donald. I really like dog very much. Donald is my birthday present two years ago and he is the one to accompany me no matter I am happy or sad durng this two years. haha..... It is true that dog is always the best friend of human. Everyday I will play with donald and bring him to walk near the lake near by of my house. Sometims Donald will even sleep with me.

• India
18 Dec 06
Seems like u really like gim alot .. which kind of Dog is he ?

• India
18 Dec 06
i've got two gold fish !!! luv dem...the're named angel and devil!!!

• United States
8 Dec 06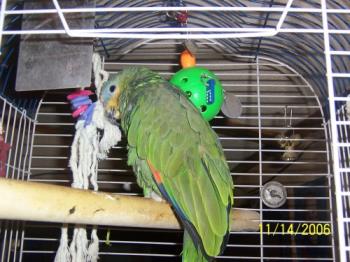 I have several right now. I have a potty mouth Amazon parrot, 2 dogs, a cat, a bunny and a tank full of fishies and 3 ducks! Oh and the 3 kids and hubby as well... I think I run a small zoo at my house!

• United States
8 Dec 06
Yes I have two dogs.One is a german shepherd and the other one is a chihuahua/rat terrier mix.