enough is enough

United States
December 12, 2006 6:38pm CST
I am starting to get annoyed with some of you. If you need a job on the interent go look for one, and stop please stop asking us. It is awaste of space and time. Thankyou
4 responses

• Singapore
13 Dec 06
actually i think you've a point there...there's so much discussions about this already...if they were to utilise the search option, they will see many links the members has put up there for them...they dont really have to start a new discussions....

• United Kingdom
14 Dec 06
And I totally agree with this as I am seeing more and more on that Discussion They should go to the Discussions that have already applied to this and they will find it all there instead of starting more Discussions about it all the time

• United States
13 Dec 06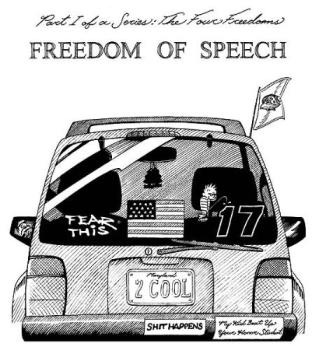 Freedom of speech, man, you've got to deal with it. If you don't want to read a post, just ignore it. What are you doing on Mylot if it's not to make money? Are you here for the discussions, b/c this one isn't very nice.

• United States
13 Dec 06
Freedom of speech works both ways. He's entitled to make his post complaining about people looking to make money with no effort. And sometimes it can be hard to ignore posts when every single discussion on the 'new discussions' page is essentially the exact same thing. Not saying I agree, just saying he has his own opinion and is welcome to voice it here.


• United States
13 Dec 06
so you are either waiting for someone to come in and agree with you or the folks at mylot to take notice and put a stop to it? which is it? people help people here...there is nothing you can do about it...

• United States
13 Dec 06
It's just someone venting. I vent about stupid posts and spammers all the time - I don't expect anything to be done about it, I just want to get it off of my chest.