Top 1 person in world.

India
9 responses


• India
17 Dec 06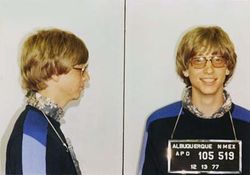 Gates is one of the best-known entrepreneurs of the personal computer revolution. He is widely respected for his foresight and ambition. His family wealth is considered, his family ranks second behind the Walton family.

• Singapore
16 Dec 06
Its gonna be me ! but now is bill gate ...

• India
17 Dec 06
You Know that it is Billgates. every one inthis world knows that. whats reason behind asking it by you ?

• India
17 Dec 06
i think is is bill gades since so many years he is earning so high that noone can chase him in the whole world

• India
17 Dec 06
hi,i think top one bill gates....but warren buffet is real number one by donating 90% of his earning to gates foundation...

• India
17 Dec 06
William Henry Gates III (born October 28, 1955 in Seattle, Washington) is an American entrepreneur and the co-founder, chairman, former chief software architect, and former chief executive officer of Microsoft, the world's leading software company. Forbes magazine's The World's Billionaires list has ranked him as the richest person on earth for the last thirteen consecutive years, with a current net worth of approximately $53 billion.