should mercy killing be legalised..?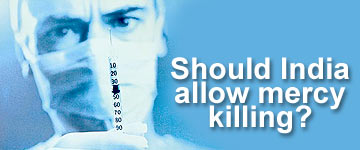 India
December 26, 2006 11:25am CST
in my view mercy and killing are two words that cannot have a common bond.but as we all know,every rule has an exception.for people who are terminally ill ... we should look out for a pragmatic solution to this issue, approaches adopted by countries like the Netherlands can form a good starting point. The idea should not be pushed under the carpet without a good debate on its pros and cons taking the society and systems into context.
2 responses

• United States
26 Dec 06
I think they should legallize mercy killings. If I ever got in that type of painful situation where I was going to die anyway I would want to do it.

• Canada
26 Dec 06
I'm sort of on the fence, because everyone might take the definition of a "mercy killing" differently. I agree that terminally ill people, as diagnosed by a physician, should be allowed the right to die if they wish. But killing a mentally handicapped person becuase of "perceived suffering" is wrong, and it's happened all to many times. The terminally ill idea is the only one I can't think of that I would agree with. I'll see what others have to say and go from there ;)