Agloco Viewbar™ Required.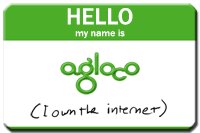 January 6, 2007 1:13am CST
I have searched every where in the internet agloco viewbar™ for download. I had not found it any where. Some one says it is not released, some one says we're using it. I'm hell confused, kindly help me to get agloco's viewbar™
1 response

• United States
6 Jan 07
As far as I know the viewbar has not been released yet. I just joined a few days ago

• Australia
6 Jan 07
The Viewbar has NOT been released yet. Agloco will email members when the Viewbar is released. It is estimated around end of February next month. In the mean time, people are encouraged to recruit friends relatives etc to increase earnings because we will earn 25% of what our referrals earn. if you have not joined, you can follow this link to sign up for free www.agloco.com/BBBD8118 I also have a blog about Agloco and people can sign up there http://AglocoCenta.blogspot.com

• Australia
6 Jan 07
The Viewbar will be released to early members first, sometime in February. Agloco wants to make sure if the Wiewbar is working OK. Members that signed up in November 2006 will be able to download the Viewbar first. So, sign up as early as possible if you can.