overconfidence........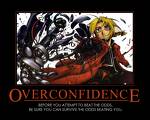 India
January 11, 2007 9:52am CST
how dangourous is it????? is it good or bad????// why?
1 response

• India
11 Jan 07
be confident, about wat u are doing and speaking. it gives a good impression. but don't be overconfident, that can make a real fool out of u. Do wat u know best and speak wat u are sure of. It is not necessary for u to know everything, right?