Women, PMS, food cravings and mood swings..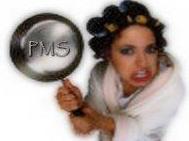 United States
January 13, 2007 11:34am CST
The women I have talked to agree that they have certain cravings during PMS.. The big ones are salty foods and sweets..I can attest to this being true because last night I ate a half of bag of Double Stuffed Oreo cookies LOL...earier in the day I ate a bag of chips like they were going out of style! I am not much of a junk food person but sure enough when this time of month comes around I found myself craving chocolate or real salty snacks.. I am convinced that the hormonal swings do have an influence on this type of urge to eat..Studies have also shown that men, who typically are less effected by hormonal imbalances, tend to develop less food cravings.. I try to avoid giving into these cravings because they don't really help me in the long run...Especially the salt which only adds to water retention and bloating all on it's on...but it's hard... As far as mood swings, it varies for me..Some months are worse than others..Sometimes I can be super cranky or super emotional and cry at the drop of a hat..In which case I take comfort in my junk food lol.. Other months I don't notice much of anything.. Again I am sure my diet may effect this as well as how much exersize I have been doing that month.. I've read caffenine can make PMS symptoms worse also... On the other hand I've read that there are other foods that can actually help..Foods rich in vitiman B and potassium...There's been a lot of talk about Omega3 as well (fish oil) So as I get though another month, staring at a half eaten bag a cookies, I vow to be stronger next month LOL... For me it's a minor incovienance and I get through it all just fine..But for some women PMS is a real serious issue and fight each month...
2 responses

• United States
13 Jan 07
I have that every month, I will crave for food like I was pregnant again, I even ask my husband to go out and get the food, I also get so frustrated quickly for a very small thing and I hate being that way, coz i will just snap w/ my husband and kids for no reason but later i feel so bad about it coz its not their fault, its just these freaking hormone in my body.

• United States
13 Jan 07
I have really terrible mood swings with pms. Have you ever seen the episode of "Everybody Loves Raymond" called "Bad Moon Rising"? It' the one where Debra has pms. My husband and I just roll laughing, because she's just like me. I go from irritable over nothing to a crying puddle on the floor in 2.5 seconds. I have found that dark chocolate helps. If I can't get dark chocolate, I'll eat everything else in sight trying to kill the cravings---especially salty stuff.