how to live? should we learn from somebody?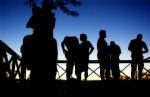 Malaysia
January 14, 2007 6:16am CST
i seen a beggar's life is easiest as they sit at the corner and raise their palm to get money. then i watching tv during my rest time, the reporters report about so many criminals thing. and i even think does world today is a safer place to live in. so what do you think? learn by ourself or from somebody?
3 responses

• United States
10 Mar 07
We are always learning from each other. Good or bad, our interactions with each other create the make up of the person we are and will be. I like to think that I learn positive things from every person - even a begger - as he or she can teach me humility.

• Malaysia
19 Mar 07
Yes booboo, the best way to learn in our life not just gain from the experience but from others :) like how can city boy know how to farm. City boy only know the theory about farm right :)

• United States
20 Mar 07
Yes and if a farm boy will only teach the city boy and the city boy is willing to be a good student - he can learn how to grow food too! :)

• Malaysia
9 Mar 07
The above hands is better than the below hands, and thats for sure. We live in the world now, not in paradise. And in this world is full of satan. But its also full with angels. May God always protect us all from satan and guide us to His path. The only place that will always safe and without even a bit trouble is paradise. May Allah forgive us all and gives us paradise, amin. :-) God will always be with patient person ....... peace

• Malaysia
19 Mar 07
Thanks for the respond my friend :) i love to hear your opinion...

• Philippines
4 Mar 07
Its really hard to advice someone how to live his/her life because we should first know the story behind every story. For example, a man who always nag or contradicts his fellow employee. You might feel annoyed or disgust toward the person but we should know why he acts like that. Maybe we should talk to the person, ask him if you did something wrong to him. Talk to him about his family and sooner or later he will open up his problem. At that point you can give him some advice. Maybe his wife always nags or have a child problem and his outlet is the office. He releases his negative thoughts at the office, whew, this is kinda hard but you should have patience to do this correctly. Experience is the best teacher they say but its always better to learn from others experience. Its a matter of trial and error, if you commit mistakes dont feel down or discouraged, instead learn from it so that when this happens again you will be able to face it or overcome it. Regards.

• Malaysia
4 Mar 07
Thanks for the respond my friend, i post this topic about 2 months ago and it seems nobody will post into this topic accept you :) i really appreciate about it. When i post this topic, i think we should do something to make our live really meaningful and to live better. We cannot expect from others to always help us instead of hardworking.