Photographer takes away Lollipops from Children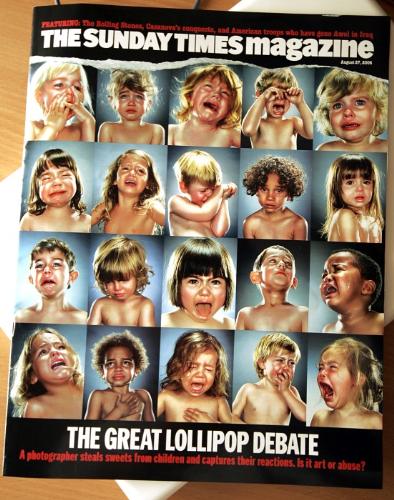 Italy
January 14, 2007 7:43am CST
The photographer Jill Greenberg deliberatly provoked to tears, taking away a lollipop from them. Pictures needed for her exhibition "End Times" Video: http://www.youtube.com/v/BWArOIdWJGA Interview with Greenberg: http://www.popphoto.com/inamericanmagazine/2552/cry-babies.html What do you think about?
2 responses

•
14 Jan 07
i think this was cruel in the extreme, i remember reading about it being done. In my opinion it is extreme manipulation of children in pursuit of profit and should be stopped good luck good subject

• Sweden
14 Jan 07
I do think that it´s wrong to MAKE children cry just so that u can make more money. on the other hand they are not hurtingt them seriously - it is just a lolly =) I could never do it though!