it is not the best yet.. But check out my new handbag.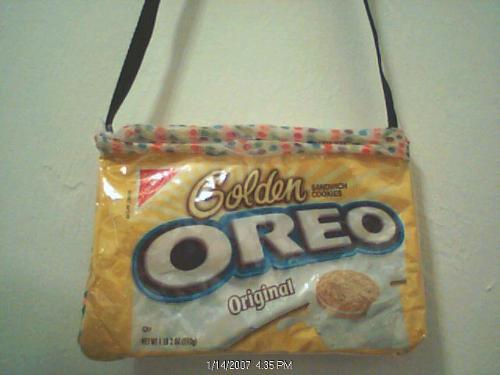 United States
January 14, 2007 3:39pm CST
I just love this one. I bought some cookies to sample this purse. I am on my way to purchase some more. Please tell me what you think. I know the ribbon is not the best. But it's my first try.
10 responses

• Philippines
16 Jan 07
That's very creative of you. I like the idea, nice bag. Is is for personal use only or do you have any collection of bags. i wish I could be as creative as you but I am not good with that.

• United States
16 Jan 07
your creative with something. You may not have found it yet. Keep your eyes open and it will come. Thanks

• United States
15 Jan 07
I think that is SUPER cool! Where did you learn to do that? I want to learn!

• United States
15 Jan 07
I have just used trial and error. Here is the 2 handled purse I just made. same packs.

• United States
14 Jan 07
This is very cool and inovative. I like that bag. You are creative.

• United States
14 Jan 07
Your so sweet,I just have to give the day care the cookie tomorrow while I make new bags. Thanks a lot for the kind words.

• United States
14 Jan 07
Ha. Wow, that's pretty resourceful. I think it's cool you can recycle in such a way you use the things that you'd normally throw away. Eat your heart out Louis Vuitton!

• United States
14 Jan 07
You have made me smile. Thanks so very much for the Louis remark. I am going to try till I die. LOl


• United States
3 Mar 07
too cute! hey, and any excuse to have to buy more cookies works for me! Last year I saw some similar bags made with those shiny foil juice bags, I think they are called capri sun? and some made out of koolaide pouches, these ones were crocheted around, they had a laminate covering over them - so the paper was not exposed but completely viewable. anyhow, great work!

• United States
3 Mar 07
I also make the koolaid purse. I have never heard of laminate covering over them. http://www.koolaidpursestore.com

• United States
18 Jan 07
IT is cute. I have never seen one like that before. You are very creative. I would change the ribbon, but other than that, its great

• United States
19 Jan 07
The ribbon is on the sample bag. Boa will be on the others. I will show my new one soon. Thanks so much for the honest review. http://www.freewebs.com/koolaidpursestore/ Please look at the picture and tell me if they are too big. I have had everyone say it's perfect and shows great details. Thanks so much.

• United States
19 Jan 07
Very interesting. I can see this catching on with the younger set. Maybe you should go to Etsy and sell them. Personally while I like the creativity behind it I wouldn't carry it. Although if it was bigger I might use it as a tote bag. There another idea for you to try.

• United States
19 Jan 07
I also don't were the oreo purse. My daughter wears hers to school. I am working on the M&m purse now. I think i'll stick to the juice purse. I wish I could get a patent on one. thanks for the review.

• United States
20 Jan 07
Any time. I enjoy seeing new and creative ideas.

• United States
19 Oct 11
i lone it is it so unique and pretty it reminds me of those capri sun handbags when i get some more time on my hands i will try to make my own although i would like to see it in person the picture is so small that you can hardly see it but i get the main idea of it i am not so sure how i like the idea of having a crinkly handbag everytime that i move and it does not strike me as being that sturdy of a handbag i am so rough on my purses that i need them to be strong