What would you do with a naughty parrot?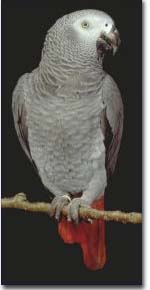 Malta
January 25, 2007 11:25am CST
My brother decided to get rid off his two parrots and gave them to my younger brother who still lives with my parents. One of the parrots is an African Grey and has a wide repertoire of words that he says every now and them. Some of them are really nasty words that he has learnt from my elder brother. The problem is that my father is getting really annoyed to hear this talking parrot saying nasty words early in the morning, while the same parrot speaks in a soft voice when addressing mum. Do you have any suggestions how to make a nasty talking parrot to shut up?
5 responses

• United States
26 Jan 07
That is too funny. Parrot speaks nasty to dad but speaks softly to mum! hahaha One has to wonder and kid with that one! :) Maybe the parrot talks nasty to dad because the parrot sees him as the older brother. Maybe the dad could try rewarding the positive words but walk away with it says the negative words. This might train the bird to start speaking softly if only the dad is giving the treats and rewards. :)

• United States
26 Jan 07
There is no way to shut it up. Once he learned these bad words, it sticks. So, if it is really too much for dad, you may want to give it to the pet store or someone else. Those are very smart birds. You cannot punish it, or hurt it.



• Malta
26 Jan 07
Though I don't know what to tell you, this parrot really made me laugh. I am still trying to figure out if he does it on purpose. I don't think he knows it's nasty words he is saying. I would not blame your dad. I would blame your brother.