Oatmeal Mischief, Anyone?

United States
January 30, 2007 10:52pm CST
Now I like oatmeal for breakfast. I make plain instant oatmeal in the microwave. When I pull it out, I like to put some brown sugar on top. If I've made it too thick, I will add a little milk. The following post about foods that make you sleepy shows that I am already headed for trouble. http://www.mylot.com/w/discussions/682586.aspx Nonetheless, there is still something missing. Lately I have been tempted to put some chocolate chips (the kind used for cookies) into that hot steamy oatmeal. What do you think? I know it just seems wrong - chocolate for breakfast. But I fear the urge is getting stronger. How nice might it be to watch them melt and then to enjoy their flavor thoughout every bite. What do you recommend? Should I give in to the urge, or should I stand my ground?
3 responses

• Canada
31 Jan 07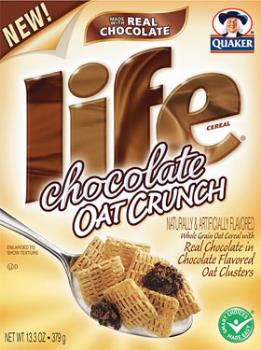 Well you would be joining the rest of the ceareal world that is adding chocolate for breakfast...like Special K Chocolatey Delight and Life Chocolate oat crunch.

• United States
31 Jan 07
You know I never thought of that. Actually my family does not buy those kinds of cereals. Count Chocula is another one. No, No, all my attention was focused on my little bowl of oatmeal and whether I should see chocolate chips melting there beside the melting brown sugar. Thanks for your response. Do have a wonderful day.

• Philippines
31 Jan 07
I can't see anything wrong about it personally. Oatmeal is my breakfast meal too, but instead of putting milk onto it, I use chocolate powder instead. At least this energy-giving ingredient will contrast the sleepy effect of oatmeal!

• India
31 Jan 07
what is that ? can you tell me plz

• United States
31 Jan 07
oatmeal is one type of hot breakfast cereal, made from the grain oats. When cooked with water, it is pretty good. Not sure how else to explain it. I would send you a bowl if I could. Thanks for your response.