Do you use vypress chat?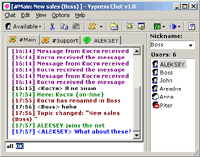 6 responses

• Pakistan
6 Feb 07
yeh i'v used vypress, its nice.



• Pakistan
5 Feb 07
yah i have used vypress its good any how would you please provide your msn or yahoo id?

• Pakistan
2 Feb 07
Yes i have ever used vypress chat,it is the easy network chatting software,and now currently available with new features now,and it is useful software because to know when the server got down or net not working properly,well you also share files and make friends too!