Making Friends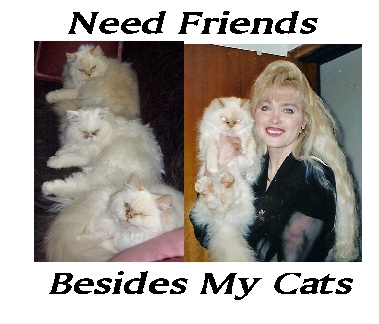 Canada
4 responses

• Canada
10 Feb 07
At first I usually just answered a lot of discussions, then I started getting invitations and I also invited those who share the same interest. If I ever deny a request I will try to explain why, but I haven't and I wish I don't have to.

• Sweden
10 Feb 07
I love cats too but have no cat of my own. You can add me as your friend and I know we have at least one thing in common. Your cats are real beauties, I wish I could have a couple of that long haired sort, are they persian? Isn´t it funny, often cats and dogs seem to have some likeness with their owners.[:o)

• United States
23 Feb 07
I have the easiest way to recruit friends here is to respond to discussions. I try to see who has responded to mine and I make it a point to respond to one of theirs. Another thing I like to do is check the list which list 0 responses. I like to check out their discussions and try to respond to their 0 response discussions or low response discussions. What normally happens is their discussions get a NEW chance to get noticed. It also helps in recruiting new friends.