do you still drink milk?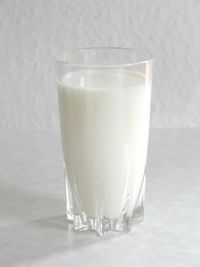 Philippines
February 16, 2007 10:06pm CST
what would it help in your helth do? me?! sometimes, i do!!! because evrytime my nephew drinks his milk., i always make some for mine... i also love it with its chocolate flavor., im really fond of drinking anything., from coffee to tea, milk, even beer and wine... isn't it odd for us grown ups to drink milk?! because its a childs drink... and sometime it felt really funny... for me., that i still do drink milk... how about you?!
7 responses

• Philippines
17 Feb 07
yes!...milk is good fo0r my body eventhough how old or young you are!...milk is the best drink nowadays!...milk helps us to strengthen our immune system to fight agains the bacteria and other inffectous thing!...

• Philippines
17 Feb 07
thansk for the idea friend... good to hear from all of you!!! thank you

• United States
17 Feb 07
Because of the fact that my kids go through a gallon of milk every 2 to 3 days, and since milk is so expensive, I choose not to drink it like I used to. I get it with my cereal and every once in a while I do like to dip cookies in it. But I do not drink it like I should or like i used to.

• Philippines
17 Feb 07
me too., but if we could get enough milk for everybody., i do always drink my glass of milk evryday... thanks friend

• Philippines
17 Feb 07
consumption of milk is needed whether you're a kid or an adult. in fact those people who regularly consume milk all their life has been found far healthier than those who don't. it's the good source of calcium needed for our body particularly the bones. aside from that, there are other nutrients it provides like proteins and minerals. how i wish i can consume milk as much as i want to. but being a lactose intolerant prevents me from enjoying its good taste whenever i want.

• Philippines
17 Feb 07
yes!!! thank so much friend for the information.. about how healthy milk is... and for giving me enough time for your response., thank you friend

• India
17 Feb 07
yes milk is the best part of my life its a source of protein and minerals good for all ages

• Philippines
17 Feb 07
thank you friend., and yes you're right!!! more protein good ofr the bones... thank you

• United States
17 Feb 07
Yes, I do. But, not as often as I should. There are a lot of people in my college that do, and it always surprises me how healthy they can be. I like it with my cereal, with cocoa, and sometimes in my coffee, instead of cream, like in a latte. But, as women, we should be drinking it a lot for our bones.

• Philippines
17 Feb 07
we got a milk here good for the bones., and thats what i always drink...i also put it on my coffee, cocoa... yummy ain't it?! thanks friend

•
19 Feb 07
I don't have any animal products, but I wouldn't drink milk anyway. I think it makes you get more colds than you normally would and is full of chemicals. Its much healthier to have fruit juice or water.