do you love to eat chocolates???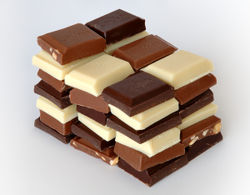 Philippines
February 18, 2007 1:22am CST
me... not so much... i don't really have of what they called as sweet tooth... but whenever there's an available one in the house... yummy!!! i really rather love totake a bite of it... what i really love most about chocolate is that creamy feeling i felt inside my mouth whenever i just leave it inside my mind and melting it by my tongue and saliva... even now., i got that mouth watery taste of it... hhh.mmmm... and i love white or milk chocolate....
7 responses

• Australia
18 Feb 07
Oh yes I used to love eating chocolate but now due to sugar diabetes I cannot eat it any more, as I used to love milk chocolate when I could eat chocolate so once I get rid of this disease then I shall have a small amount not too much as I do not want it back again.

• Philippines
20 Feb 07
chocolates really could increase your sugar blood level because of the suagry intent in it... well i guess you could still take a bite from it... but not too much... just drink lots of water after., right?! he he thanks friend!!!

• Philippines
20 Feb 07

I really crave for chocolate ha!ha!ha and I can proudly admit that I can eat a whole family size mini's of toblerone and cadburry. What I love chocolate is the satifisfaction I get in eating it lol! and only worries after eating tons of it. But ever since my husband went home from work abroad I was really into buying it on a duty free and consume it for a week but now I have a rival and that's my 3 year old son.

• New York, New York
19 Feb 07
Hi, when I get in the mood for chocolate I like the milk chocolate best. Ever put some milk chocolate in some silver foil, place it on top of the stove for a few minutes and it gets real soft from the heat and then just lick it up - oh so good. Now your going to make me run out for a hershey bar. :)

•
18 Feb 07
Even though I'm not supposed to eat them, I do love chocolates, especially ones with Praline centres as they are so smooth and cold. I hate cheap chocolate though it is just sweet and tasteless.

• United States
20 Feb 07
I am a definate chocoholic. A plain hershey's bar is my favorite with plain m&m's a very close second. It really depends on what I ma in the mood for. I am actually trying to cut back on my chocolate intake so I have been holding off on buying the candy, but I just really replaced it with chocolate chip granola bars. It is a small step, but I am proud of it. I do also have some chocolate milk every now and then. I also like chocolate cake but only once in a while. I don't think I will ever really stop eating chocolate all togehter, but I think I can be successful at cutting down.


• United States
18 Feb 07
Yes!!! I was trying not eat so many until I read your description of the sensation and now I doomed again. Thanks a lot!!!