What would you say to your kid? about joining the military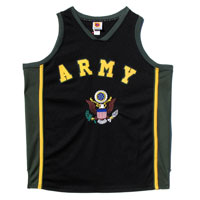 United States
6 responses

• Cupertino, California
18 Feb 07
My exhusband was miltiary and so was my current husband. In all three of our families there is a history of serving in the military - voluntarily or otherwise (mostly otherwise). We have friend who are currntly serving (most are tyring to get out or about to get out) and one friend who is about to join the Marines (for the wrong reasons - his Dad said join the military or get kicked out - WTF?) Since my son has opportunites that my husband, exhusband, and other families did not have, I would rather him first get his education, then join if he so chooses. I don't think any 18 year old can make a decision to join the military without being influnced by their familiy in some way shape or form. I have seen the military negatively affect almost every person I know that served, why would I want that for my son?

• United States
18 Feb 07
My best friend served 10 years. he said when he was there grown men cried like woman. The mess you go through was harsh. he said grown men would miss their go home dates. They had no notice on most times. Who could not sit and cry missing their child being born. Knowing your go home date was approved. The gas chambers. The hidden crimes. Not my child no way.

• United States
19 Feb 07
Based on alot of the replies received already, I have a better question. What if no one would voluteer for military service? What then? It seems alot of people want freedom and appreciate democracy, but would prefer someone else fight for it.

• United States
19 Feb 07
Great point. I guess in a perfect world it would be ideal to have no soldiers at all in any country, though that is too idealistic and will never happen (at least not in my lifetime). We here in the real world can only build our armies and try to avoid using them at all costs.

• India
18 Feb 07
i think that at the end of the day it is a profession and one has to look at it that way. it is a great profession though but one must not get cerried away with the idea of patriotism and jump to conclusions. one must not forget other aspects..

• United States
19 Feb 07
I have been laughing for a while your all over my posts. I thank you very much for responding. I am looking for a post to mark you best but your making it hard. A+

• Singapore
19 Feb 07
the boys in my country have to serve a compulsory 2 year stint with the military before they go to college. i guess we do really need all the men we can to defend our country if the need ever arises.

• United States
19 Feb 07
i guess looking at it a this way is hard Your country is very hard to live in I think. I would love to know how to leave there. But over all it's true we need to troops. But we don't need my daughter. A+

• United States
18 Feb 07
I would say, "DON'T" unless the cause is right. I would also want my child to wait until there is a leader who would make sure that only the very latest and best equipment is available to him/her. None of the rag tag army stuff that our army was sent out with.

• United States
18 Feb 07
Amen to this here for real. I can only say way to go!!A+