Do you have a list of "people who i would cheat on you with"?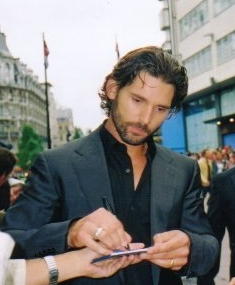 Romania
February 20, 2007 9:43am CST
I was talking with my girlfirend the other days about this subject.Anyone has that list.Of course it includes only celebrities and not your neighbours or the mailman/milkman/poolguy.Anyway my girfriend said that she would cheat on me with Eric Bana(if his looks are exactly like in Troy while playing Hector),Viggo Mortensen (in LOTR),Johnny Depp(in any movie:)) )...and the list goes on.In my case it would be Charlize Theron,maybe Anjelina Jolie.....Who's on your list of "legally-cheating"?And don't lie..we know you got a list too:)
4 responses

• Murfreesboro, Tennessee
21 Feb 07
Number one for me: Angelina Jolie After that: Johnny Depp, Kiera Knightley, Heath Ledger... I'm sure there are others, but these just popped into my head right off the bat. My husband has a list, we've talked about it before. Not that we'll ever meet these people. =p

• Romania
20 Feb 07
i might have kind of a list like that. and so does my girlfriend. i mean that don't mean we are going to do anyhting about it. there just some people who we really like. for me i think it's scarlet johansson. as for her i don't really know. i'll ask her and get back to you.

• United States
20 Feb 07
Mine would be with Matt Damon...too cute!! And myhusband likes that gurl that played on Alias with the bright red hair, I don't know her name =)

• United States
20 Feb 07
That's sleazy. There's no relationship I'd be in where we'd keep such a list.

• Romania
20 Feb 07
I don't think it is sleazy.It would be sleazy if you really had the chance of cheating with them.Plus,it it normal for you to like the looks of other people.That does not mean that you actually will jump in bed with them or someone who looks exactly like them

• Romania
20 Feb 07
I said that if you have a list like this does not mean that you will actually jump into bed with the ones on your list.My girfriend and i named it a "legally cheating list" as a joke.Of course it means :people you find attractive. If i would be in the position of really cheating(as in sleeping with someone else) i would not do it. I thought that it was obvious that the term i used is ment to be "received" as a joke not as a really serious cheating-relashionship breaker problem. sorry if you understood like that