What craft project are you most proud of?

United States
February 20, 2007 12:10pm CST
Have you ever made anything so great that it made you want to run out into a public place and tell strangers how brilliant and talented you are for having made such a thing of beauty? Or have you just made something that gave you such a great sense of acconplishment that you plan on keeping it around forever? For me that thing might be my super-long and fluffy Harry Potter scarf or my hand embroidered greeting cards. Oh, and for those of you who can post pictures in your comments, please share!
5 responses

• United States
20 Feb 07
I think my greatest achievement was an Icelandic sweater I made. It was my first sweater ever and it is made in the round in a special way that uses almost with no seams. For xmas my dad got me a a gift certificate to a class at the local community ed on making Icelandic style wool sweaters. After buying all my supplies I got to the class and found out, not only was I given the information on last years pattern (which I thought was nicer than the current one anyway) but that I was the only one who had never made a sweater before! Not to be outdone, I worked so hard in this class....learning new techniques like using double pointed needles and doing fairisle stranded knitting. Lots of hard work, and lots of compulsive knitting later...I was the first to my sweater! It came out great too....if not a little big (I'm pretty petite). In fact, I was up north in NH this weekend and this sweater was the perfect thing to keep me warm. I'm so proud of it.

• United States
20 Feb 07
Oh, a whole sweater! I'm almost too afraid to try again after my first disaster. You must feel so proud and awesome when you wear it though.

• Canada
20 Feb 07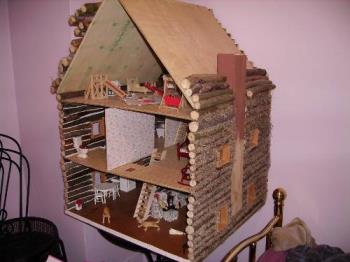 i made a huge doll house. well it's actually not completely finished yet. i have to wait until the spring to get more branches.

• United States
20 Feb 07
Wow, if this website has emoticons, I would use the one with huge amazed eyes! That dollhouse is amazing. I also love the idea of a dollhouse being a log cabin rather than just a usualy wood house. You should be really proud of that doll house. Thanks for sharing it.

• United States
22 Feb 07
I have just begun to display some of my craftwork. It took me many years to do this. Most of my craftwork went to relatives or friends for gifts. Last year I realized that I didn't have one item that I have made on display. Now I have many. I make grapevine and eucalyptus wreaths and decorate them. Several adorn my walls and doorways.

• Norway
20 Feb 07
At 11 i made a ceramic head at school. I still think it's good. My parents has it on display - the only thing i made they still have i think. I'm really proud of it as i am really not that good at crafts. I remeber I worked really hard on it as well.

• United States
20 Feb 07
I love getting crafty. I made my ex's mom a bracelet for Christmas. It was the first time I had ever done something like that. I was so pleased with how it turned out. I'm looking forward to making more.