Why shouldn't we kill seals for eating?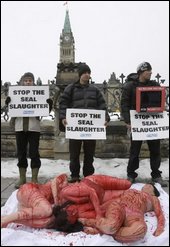 Canada
February 24, 2007 12:57am CST
Peta is again on the back of Canada for killing seals for eating. They say we shouldn't kill seals at all. I want to know what's wrong with that? We kill cows, chickens, fish, everything we find that we can eat. So why not seals?Canada has made regulations to make sure we do not touch baby seals and to ensure that we do not make them go extinct. The only thing I'm not sure about is the way we kill them, I know it once was barbaric and if it's still that way I would oppose the way we kill them. I also think Peta should stop wasting everyone's time on "let's not kill seals" and use their ressources and willingness to fight and demonstrate to ensure that animals destined to become food is killed in the most humane way possible. That's where they should put their efforts, not in telling us what we should or should not have in our plates for diner. What do you all think about that?
2 responses

• Canada
24 Feb 07
PETA is in everyone's back for eating any meat, meanwhile, they slaughter thousands ofcats and dogs daily, and let others go without food and water in their "humnane" shelters. They don't realize that if those seals aren't culled there will be NO fish left for us to eat. PETA are ignorant fools who just want to raise hell, not protest anything. I hope the government kicks them out of Canada very soon.

• Canada
24 Feb 07
Ah, so i'm not the only canadian tired of seeing Peta in the news? It's so sad that they won't put their energies to actually do something good and help the cause of animals. Thanks for your comment mate!

• United States
27 Mar 07
It is not the seals taht are killing all of the fish but rather humans that are killing fish tat they do not even use. Theuy go out and cath fish and throw back the fish that do not meet their specifications. Humans are to blamme for many of the ills of the world as we know. We as humans should act more responsible to steward Mother Earth.Then all animals woud have a better chance of living . We are just one species on Mother Earth and not necessarily the best.

• Canada
4 Apr 07
While the seal hunt is not the kindest way to kill an animal but PETA should be looking at other more disgusting treatment of animals like places in asia that Milk certian animals for there fluids or body parts because soem peopel think it will improve there six drive. For example teh amount of bear that are poached for the paws and Gallbladder the rest of the animal is left in the bush while the taken parts are rushed to asia. I have no problem with the killing or hunting of an animal so long as as much of it can be used for some purpose, meat to eat, bone to feed to dogs, skin for clothing or someother use and any other part you can think of a use for.