how can we get rid of ants in our home.

India
2 responses

• United States
28 Feb 07
Try these..... baby powder (preferably scented talcum). If you find a trail of them in your house, or some "scouts" looking for food so they can bring the rest of their nest to enjoy it, just sprinkle the baby powder on the ants and wherever they are coming in from, if you can find it, and you will see them begin to get upset. After a while, they'll be gone, and they won't be back again for awhile, even after you remove the powder. We dust baby powder on our honey jar and sugar bowl, as well as the outside of the cats' dish and it keeps the ants off. • Sounds crazy, but try vinegar! Fill a squirt bottle with plain old cheap white vinegar, and squirt it anyplace you've seen ants (kitchen counters, windowsills, etc) and let it dry. It's non-toxic, won't harm anything, and the smell will go away in just a couple of minutes. plain old cinnamon. I put in or at the site of the ant invasion, they back off quick! • Black pepper is a nonlethal, poison free, cheap, and safe way to get rid of ants - sprinkle the black pepper where you see them congregating and watch 'them scatter. Follow them to where they're exiting - which is the same spot they're entering in at - and sprinkle the pepper at that spot to keep them from coming back in. It's safe to use in your cabinets, on windowsills, near your pets and kids, around food, etc. apple cider vinegar. Make a mixture of 50/50 water and vinegar and pour it into a spray bottle. Spray the surface with the solution several times a day. Ants guide themselves with their scent. Vinegar has a natural chemical that alters ants' scent and which ants avoid. : equal parts Windex and Ivory Soap. Simply mix, and spray problem areas. Hope that any of these give you the help that you need.

• United States
1 Mar 07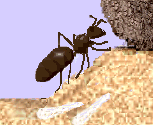 I never knew about cinnamon, cloves, or black pepper. It sounds very aromatic, and good to me. I have heard of rubbing cucumber peels on things, but this sounded to sticky to me. If we take the trouble there are a lot of alternatives to poisons in our environments.

• India
1 Mar 07
yeh thats what i was looking for.every thing handy and safe to use.Thanks

• India
1 Mar 07
i saw your tips too sunsix i like them but the boricpowder one we cant use it with kids at home.

• United States
1 Mar 07
First you should take a damp cloth with cleaner, or vinegar, and wipe down their trails, where they walk in a line. They follow each other by smell. Find where they come in and do the same. Sprinkle salt or talcum powder in the holes they use to come in, as they will not cross this, it scratches their exoskeleton, and then they dehydrate and die. You can also buy diatomaceous earth at a garden center, it does the same thing. Lastly, use mint extract, or mint leaves in a potpourri in areas that you see them. Take a stick of peppermint gum and tear it in half, put a piece in your sugar container and your flour container, to keep them from getting in there. Good luck. All of these measures are non toxic to kids and pets.