do u think kiss in public is good?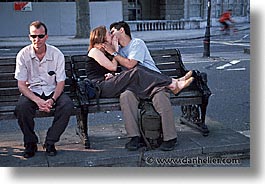 India
March 4, 2007 7:12am CST
I don't mind seeing anyone exchange quick kisses, light detailed kissing (some tongue exchange), holding hands or hugging, in public. What I don't appreciate is when people behave inappropriately, as if they are in a private place - by deep throat kissing, full body hugs, with rubbing and grinding. Is it annoying to me, not really. It doesn't bother me whether I'm in a relationship or not. I just see it as them being disrespectful to each other, as well as to anyone else around having to witness their behavior. They should "Get A Room!"What do u think about kissing in public??
3 responses

• Singapore
4 Mar 07
I feel that people should be more considerate to the feelings of others. Being too intimate in public places tends to put people off. It always begs the question why they can't just book a room and save the show for themselves. :P

• Italy
4 Mar 07
I don't like too much kiss my girlfriend in public but i haven't problem to see people are kissing in front of me

• India
4 Mar 07
I feel that we should control our actions when in public. Love can be expressed by holding hands, exchanging smiles, sharing thoughts when in public. If there is a sudden urge for something exra then one should find some isolation. Why make a show of yourself and your partner in public. Now you are not all day in public yaar. Must be having ample time for kisses and other activities.