Mother earth fantasy garden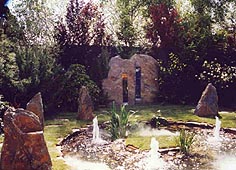 United States
March 6, 2007 11:33am CST
My husband and I bought a new home april of last year, this will be the first season I can devote to landscaping my yard, which is devoid of anything outside of a beautiful old oak tree out back. I am really looking forward to getting started as I have been all winter mulling through catalogs and making drawings. I Have decided that the back yard is going to be totally mine. Not a playground for my grand children or children. They can have the front yard. I have envisioned an enclosed garden devoted completly to mother earth, I want to show case all 4 seasons. I can see clearly mystical creatures, and goddesses draping themselves over flower beds and a pond that I bought last fall but has not been installed yet. I want to make this space special, my place. I can see it taking me a few years but I am determined to make it what I want. I have never attempted quite this big a project, but I am not intimidated by the challenge. If money were not an object what kind of fantasy gardens would you have,,, Or maybe you can give me some suggestions, I live in middle TN and our winters are fair and not harsh. I would love to hear about your gardens.
8 responses

• United States
6 Mar 07
You have a wonderful place to create your vision. Take is slowly and build upon it year after year. Also know what plants do well with what conditions you have. Am glad you are claiming a space for you. Your children and grandchildren will be able to enjoy it too. I have 43 acres in Northern Ohio and with 13 acres of woods I hope to grow some ginseng and other woodland plants for sale. The deer are most welcome on my property. I have a large garden started a short distance from my kitchen. We live back a long driveway and with the addition of animals they each will have their own garden for goodies to help keep them healthy and happy. I have room for a large section just for pumpkins too. A good cash crop in the fall. I wish you much luck and patience in your endeavors.

• United States
6 Mar 07
You know my first inclination was to put a pool out back, and a swingset. But I got to thinking that this is the home that my husband and I will retire in, I can not see us moving again. The grand babies are being born faster than Nana would like.. LMAO, but I have taken care of children now for ...well lets just say since I was 21, I just feel it's my turn. I want a private, quite place that I can read, nap, and enjoy beauty that is mine. Something I created. And you are right I think in the end both my children and grand children will enjoy it. My first order of buisness this spring will be to purchase and install privacy fencing and research plants as you have suggested. Your place sounds wonderful and you sound content with the woods, and animals. Thank you for sharing.

• United States
7 Mar 07
Am glad we share this. I appreciate you started this discussion so that I could find you and learn about another life! Thanks for responding to me and hope it all goes smoothly for you.

• United States
6 Mar 07
I would love to have an area with trees and flowers and a gazebo- closed in with neting or screens, somewhere i could just sit and emjoy the outdoors without bugs. I've seen the back yard makeovers with an oriental look - i like that a lot with a little brook with rocks - thats nice too.

• United States
6 Mar 07
I to like the serene, soothing beauty of oriental gardens. I am fasinated although with the mystical creatures of folklore. I have found quite a number of ideas from designtoscano.com. I also have victorian tastes by nature. So I want the garden to reflect those interests. LMAO yes and with out the Blasted BUGS!

• United States
6 Mar 07
First of all , I think its so neat that you are making a space for yourself!That's so important. I have always lived in apartments so I haven't much room for anything. the last apartment complex I lived at,had small back yards for the tennents.I went crazy with my garden. they started having a garden contests and the first year,I took third place and the last year I was there ,I took second.I have always had this idea of having a small stone water fall in the corner of a yard,cascading gently into a large koi pond surrounded by flowers and water lilies . I have also wanted to make a rose garden with a nice comfortable bench in the middle,completely cut off from the world

• United States
6 Mar 07
So much of our young married life was spent in apartment living. I hated it, its so hard to have privacy when living in them. I felt at first some what selfish for claiming the space when I started talking about it to my husband. His thoughts were that if we were going to spend the money on a project such as this it should be the front yard. LMAO but I don't give a flip what the neighbors see. We are going to put up a jungle jim for the grand babies in the front yard and a security fence there. They will have just as much fun there as in the back space. And My husband really does not care as long as it makes me happy. The pond is also going in this spring as I understand that it takes at least 2 seasons to establish a decent koi pond. My mother had a "cement" pond put in her back yard for water lillies they were just beautiful, she kept gold fish in there also but you could not see them well unless they were top feeding. Bull frogs were always abundant, and at night they sang. You are exactly correct what I want is a garden that gives the impression that you are completely cut off from the world.

• United States
6 Mar 07
I don't like apartments either. I hope to someday own a home with a decent back yard for my "garden"dream.I have to be isolated.When I had my garden,it didn't matter how stressed out I was,I could feel my body relaxing .I loved it. I can't do that here.I hate it! Thanks for the 411 about the koi pond,didn't know it took that long.

• Ireland
11 Apr 07
I bet you will be able to find loads of ceramics to tuck in here and there as well. Do you know about the Green Man? That is another thing that sounds like it would be right at home in your garden. Are you getting started yet now that we are into April? I am fortunate enough to have a large walled garden which has its own little micro climate. The bottom part of the garden is what I refer to as 'Manland'. It has the lawn and the trampoline, and the vegetable and the compost heap and all things manly. My boys have a clubhouse down there, and my husband has his sheds full of even more manly things! My central garden is a bit of a lark. Since it isn't needed for anything, and I was in no hurry, I used the first couple of seasons here to figure out where we walk and where we sit. I then began putting in benches and arches and arbours. I put in permanent paths which beach stone and old bricks that are beach worn. I find them all over the beach and made sections of steeping stones with them and then lined the path with a larger rock border and filled it in with the pebbles and shells we gather. It probably took a couple of years to finish, but I know every single stone in that path has a happy memory of one of our trips to the beach attached to it. I did the same with mini driftwood fences, and have woves the trunks of old Christmas trees into them as well. Since we live on the beach, there is always something washing up and getting dragged home to add to the seaside feel of the garden. Of course, we have a million winchimes as well, and it's a great atmosphere out there. Very nautical!

• United States
14 Apr 07
Your Garden Seamonky Sounds absolutely enchanting. Yes indeed we have started, this year our focus is going to be getting the fencing put up and the pond installed and stabilized. I have been collecting flat field stone since last year. I keep changing my drawn plans some so the flower beds and the actually plates will wait until next year. My favorite website and catalog is www.designtoscano.com. I have ordered s few sculptures for the interior of my home, and I have had the opportunity to deal with their customer service and have to admit they were just simply wonderful and bent over backwards to make it right for me. Check them out, bet you will love it.

• India
15 Apr 07
"Great gardens are not made they are nurtured", i live in place where a huge garden is thought as a waste of money so ui have made a nine one in my backyard, its more of a jungle with trees attached to the ground as well as have some hanging ones. I surely liked the one you described, when i grow up i will surely get one like that.

•
14 Apr 07
My dream garden would have a pond with a little bridge going over it and a willow or an ash tree , the weeping ones where the branches hang down just within reach of the bridge , I would have flowers all year like crocus and daffodils , and loads of natural flowers like a wild garden , I would have a rose arch with a seat underneath it where I could sit in the shade with hubby as he doesn't like the sun , Oh!! I would have a lovely wrought iron table for my laptop so I could chat to you on My Lot when I had finished my lie down on my sun lounger , Have fun planning pal xx

• Canada
27 Apr 07
YOu rvision for your garden is beautiful and I can see you have the drive to make it happen. I do love a beautiful garden, but to be honest I don't really have a green thumb, so appreciating other people's gardens is more what I do. If money was no object I would have to hire someone to create my garden - although I would like to have input - because I know I wouldn't be able to get the things going. I wouldn't know where to start, what to do, or how...and even if I learned I know I would make some sort of a big mistake and kill everything. In my fantasy garden I would not have many flowers, more like green plants, different kinds of tall grass, maybe some bamboo and definitely a pond, preferably with some sort of waterfall so I could just sit down and hear the water .

• United States
28 Apr 07
First I say thank you. I do not have a green thumb either. Most of my garden will be perennials that take care of themselves the rest will be clever statues and seating to make it a room off my home

• United States
26 Apr 07
Angel, your vision for your garden sounds wonderful! I hope you are able to complete it and make it a place to enjoy forever. I would love to have a cozy colorful shaded garden in my backyard. I can see an old stone pathway with wild flowers in a variety of colors surrounding it. Lots of trees and pots over-filled with all kinds of flowers and plants. I'd want little treasures hidden throughout - faeries and butterflies (statues etc) A pond with a small rock water fall hidden in the garden would be lovely and so peaceful.. with Koi fish and small turtles! Archways with vines of flowers intertwined throughout and benches or places to sit along the way. My backyard isn't very long but it is wide. The problem is my backyard is very plain right now. We have an area of grass and our home is strange, in that we sit below the homes behind us so our backyard has a 'hill', if you will that goes up and then meets with the back fence. Up on the hill is this ice plant that is green most of the year except in spring (like now) when the flowers bloom a very bright pink/purple color. There is an old retaining wall made of logs at the base of the hill. That's it. A cement pathway that goes around the outside of our house from our patio door around to the garage. No trees in our yard (the neighbors have a tree that kinda leans over to our side). I live in Southern California, not many people have gardens like I want in their yards. Maybe one day but for now, my husband wants a more traditional backyard with a built in BBQ and a firepit. :[ Good luck with yours!!

• United States
28 Apr 07
thats the beauty of my back yard right now.... there is nothing other then one tree. Right now we are getting our fencing put in. We live in a neighborhood. I want my back yard cut off... I do not want to see anyone other than my living area. So this year the fencing and the pond.