Food for Thought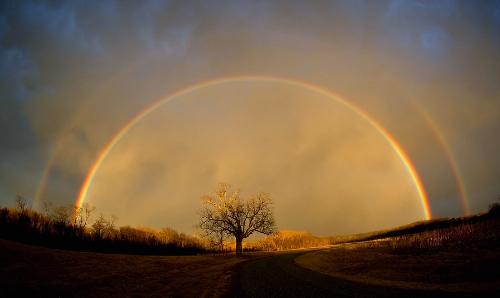 United States
March 14, 2007 1:55pm CST
As we grow up, we learn that even the one person that wasn't supposed to ever let you down probably will. You will have your heart broken probably more than once and it's harder every time. You'll break hearts too, so remember how it felt when yours was broken. You'll fight with your best friend. You'll blame a new love for things an old one did. You'll cry because time is passing too fast, and you'll eventually lose someone you love. So take too many pictures, laugh too much, and love like you've never been hurt because every sixty seconds you spend upset is a minute of happiness you'll never get back. Don't be afraid that your life will end, be afraid that it will never begin. May a rainbow brighten your day....Mari Feel free to save this picture...it gives me inspiration and hope, I look at it often..lol
8 responses

• United States
17 Mar 07
Life is a book of many chapters. Good and bad, happy and sad. Each day should be lived to the fullest, as one never knows if it will be the last. Be sure to make each moment count.

• United States
18 Mar 07
So true my friend, so true. Go for the gusto is what I always say.


• United States
17 Mar 07
You're very welcome, I'm glad it has helped.. ;)

• Canada
15 Mar 07
I think this was supposed to be inspirational, but for some reason it kind of brought me down Mari. I guess it has to do with time passing. My kids grew up way too fast. But I don't like to look back with that attitude. I look forward to grandchildre. Yikes I'm only in my 40's. Aren't grammas like 50? lol

• United States
15 Mar 07
Sorry..... I used to think of Grandmas as old, and still do. But then think of the advantage to being a young Grandma...you'll have more time to Cherish your grandchildren...lol

• United States
14 Mar 07
I am so happy I was given hope and I was also given a new begining and it is more wonderful than all the years before. Thank you for the beautiful picture ( I rated it and commented).

• United States
15 Mar 07
Thank you, I love that picture. I would love to have it painted on my wall...lol

• India
14 Mar 07
Its a very healthy & valuable thought..I really appreciate your words & totally agree with you..Practically life does gives us some moments where we might feel sad, unhappy, upset & let down by our loved ones may be....But same life gives us moments of joy, happiness, peace & serenity..I admit that my life is really the best gift that I have ever recvd..:)

• United States
14 Mar 07
It's true life has it's ups and downs...but without it we have nothing...thanks for responding..have a good day. :)


• United States
14 Mar 07
Sorry you had such a bad day. I hope this helped you look forwart to a brighter one...god bless.

• United States
14 Mar 07
Exactly!! Memories are to be treasured. I know I have had my heart broken but sometimes i feel its pay back for all the many times I have broken hearts as well. I make memories everyday and i will keep them in my heart and in my treasure box. (my pics and letters and stuff) Some I will hand to a friend to hold until I am ready to look at them again.

• United States
15 Mar 07
I agree that people will let you down and that whether you mean to or not, you are likely to let others down at some point. I learned a long time ago not to depend on others because the only person you can ever be 100% certain of is yourself. O another topic -- I had no idea that you could rate or comment on, the pictures!! LOL! What an idiot! I couldn't figure out why I needed to put a subject or description on them! HaHa! Well, I remedied that by rating this one! Thanks!