Have you ever bought you children baby ducks for Easter?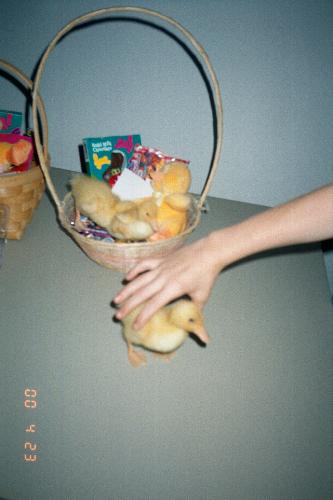 United States
March 15, 2007 7:56pm CST
With Easter being just around the corner, I wanted to know if anyone has ever bought their children baby ducks for Easter? My children begged for them for years, finally when she was a sophomore in high school, I decided to go ahead. We have 4 children, we bought them each a baby duck. They were so cute and the children were so excited. One of them got sick after a few days and died, it was sad, but the others lived quite a while, we put a pen made of chicken wire in the yard, and the kids actually did a lot to take care of them, including our youngest who was three at the time, he helped feed and water them. When the got a little too big, we took them to a nearby lake and let them go. It was fun, but I wouldn't do it again. It was just too much trouble, and they get loud. Have you ever bought ducks at Easter, or would you ever consider it?
5 responses

• United States
16 Mar 07
No, but when I was in my 20's, I wanted a goat and later a goose and was still living at home between college semesters. So, I got the great idea of buying a goat for Father's day for my dad and a goose for Easter for him. He was less than excited, but, he did let me keep them and he took care of them while I was at college. I knew he would, that is my dad. We still laugh about it sometimes today !!

• United States
16 Mar 07
One year when I was probably about 4-5 years old my parents let me get a baby duck at Easter. I remember it being in the back yard and living in a little swimming pool (plastic wading pool) and sand area that we had. But what really stands out in my mind is how hurt I was when we had to take it to the lake and let it go. For some reason that part didn't sink in early on, and I was really upset when I had to let the duck go!

• United States
16 Mar 07
I haven't and I wouldn't. I have too many animals to take care of already. Also, they can carry samonella. My DH's cousin and his wife get them every year for their kids. They have some extra land, so it's not a big deal for them. They raise them from ducklings and then let them go in the fall to migrate. I can see that it'd be a good learning experience for kids. A couple of years ago they were here, visiting his mom for Easter. It's about a 5 hour drive from their house. They got the ducks and brought them here, so the kids could have their ducks on Easter morning. They had the bathtub full of chicks. Couldn't take a shower for 4 days!

• United States
16 Mar 07
No I never have for my children. When I was young my mother always got us a duck, a chick, or a rabbit, but at that time we lived on a farm and the animals had room and there were other barn animals that got feed and taken care of at the same time. it was not difficult. But we just have never had the room like that, and I always struggled with getting my kids to take care of their pets such as the dog and cat.

• United States
16 Mar 07
We have not had property before and so have not. Now that we do we might in the future for all of us. Baby things at holidays are not a good idea and just releasing them may be the worst thing if they did not have survival skills. Glad that you will think twice next time.