My sisters wedding photos....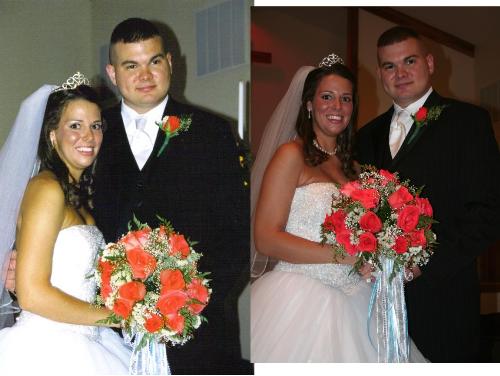 United States
March 22, 2007 8:48am CST
My sister got married in Sept of last year. She had an up and coming photographer referred to by a friend take her pics. She only charged her $200 - she was only doing the wedding and the wedding party pics afterwards. I was taking care of the reception. I knew things weren't going to be good when the photographer was taking the pictures. She was unprofessional by complaining about the lighting the entire time she was taking the wedding partys pictures. I was also taking pics when I wasn't in them of my sister, her husband, and the rest of the party. When I got mine back I thought they were pretty good except that unsightly shadow cast behind them. I figured well that's because of where I was standing. That surely the photographers pics won't have it cause she got to stand right in front of them PLUS she has an additional light source too. Well after nearly 2 months she got the disc from the photographer to pic which she wanted printed (cause she through some prints in too & she has the rights to get the disc developed anytime too). They looked HORRIBLE!! I couldn't believe it! Espically since mine turned out okay. Some were even blurry when blown up! And I found out recently that she's actually got a respectable camera - Cannon EOS Rebel. On the disc too she didn't even delete the ones that were the worst either. She just copied it and gave it to my sister to choice the ones she wanted printed. When my sister finally got those back - in Decemeber - the photographer had printed them off on her home computer/printer! I thought that was unprofessional too. Well anyway - I was reading about strobe & flash lighting in my photography course (NYIP) and found out just why those pictures had that shadow, why my sisters face was shiny, and everything. She had that extra light she brought directly in front of them instead of at the proper angle! Another thing she did too - of which I already knew - instead of getting a stool and standing level with the wedding party (cause they were a few steps above on platform in the church) she stood on the regular level looking up at them. This made my sis look a little bigger than she is in a lot of the photographs. I personally think she should have used a tripod for this part too. Okay here is two pictures from the wedding. On the right is mine and the left is the photographers...as people post I'll post others too. And remember I only kept the very best of the photographers pics. Please let me know what you guys think about the pics and the crappy photographer!
4 responses

• United States
23 Mar 07
Hey sweetie. Tell you what...I can fix those picture for you. :) If you want to private message me, I can fix the lighting and change the background on some of the photos if you like. Let me know the ones that you would like change in an email and I will see what I can do. Some pictures can be touched up and make a huge difference! :)

• United States
23 Mar 07
I might just do that cause you know I suck at photo shop! I'd really like a good one of my sister and me. I know we had already talked about this before. But when I read about the lighting angles in my course I nearly flipped! I thought she should have at least known the basics!

• United States
23 Mar 07
It takes a great deal of attention to detail for one to be a photographer. There are many things at once that a good photographer needs to pay attention to all at once. Sometimes amateurs have a hard time absorbing everything. This is why professionals have so many assistances...the assistances pay attention to the lighting, the props, a screen to see if the shots are having problems...so the photographer can concentrate on just the subject and catching the right moment. But your right, she should have known what to do when she complained about the lighting. I hope she realized her error so no one else has this disappointment.

• United States
26 Mar 07
I know what you mean. She actually did have an assistant. She must not have known much either! LOL

• United States
23 Mar 07
Congratulations to your sister!! And, sorry you and your sister didn't get the best pictures possible. That is sad because you can only marry someone for the first time once. But, you could always in the future do it again...but that is still not the same! Maybe the photographer is still taking courses as well, so that is why she only charged $200. That isn't that bad. Which of your friends recommended this photographer? Where they happy with the pictures, or were they just happy with the price! :) So the left picture is yours, and the right is the photographers. The photographers is really dark for bringing a light. But, you could always try to brighten it up. :D I hope that you were able to get some decent pictures!!

• United States
23 Mar 07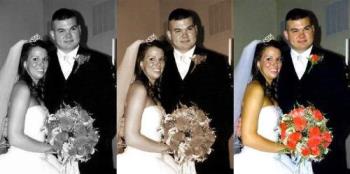 Here is a darker picture of the one that you took! And, there is also a Sepia, and Black and White. I hope that you like one of them, or it helps!!:D

• United States
23 Mar 07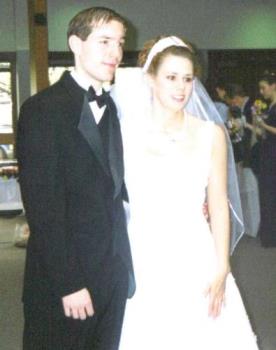 It was a friend of my sisters. No my sis & hubby are NOT happy with the pictures but like you said the price wasn't bad. I don't know if my sister talked to her friend about them or not. I guess I should ask. It does suck about the pics. I know first hand. I wasn't able to afford a photographer when I got married and now I have no picture at all to hang on my wall from my wedding. It upsets me. I've attached the BEST pic I have of me and my hubby from our wedding. And it sucks!The photographer had been doing it on the side for years but just recently decided to start up her own studio. I do like the pictures I took. I know they're no where near professional quality but they're not dark either. I had to order an additional 6 sets from my negatives for my family! I couldn't believe the photographers pics were so dark with the additional light she brought along. She supposedly actually adjusted the contrast and things before she gave my sister the disc. Or at least that is what she kept saying while she was taking the pictures.

• United States
24 Mar 07
My first question is: why photographer was charging only $200? It is a lot of work, not only mentioned hour, but final editing and retouching as well. It looks like photographer only charged for one or two hours of work and didn't edit any picture. To be good photographer is not abut good camera. I usually take study shots way before peoples wedding, to see how I can make people look good on wedding day. Saving money on pictures is not the best idea.

• United States
26 Mar 07
Well no it's not but she came highly recommended from a friend of my sisters. She had been doing photography on the side occasionally until right before then. At about the time my sister got married she had decided to do it full time.

• United States
27 Mar 07
I was doing free services when learning and I used to spend long hours on photoshop finishing all photoes. Reputation is hard to gain and easy to lose.

• United States
23 Mar 07
The lighter one was yours then? I'm so glad you cleared that up because I was dreading giving my honest opinion,(which I can't help but do) stating that I liked the lighter one more. The angle and lighting were much better and I would choose yours over the photographer's any day. I'm suprised that the photographer didn't at least attempt to make them as presentable as she could, considering she was payed. Like Brokentia said, they can be 'fixed'. All I have is a digital camera but my camera comes with certain features that allow you to brighten, remove red-eye, and even an enhance feature to make the photos look more clear. It has scene and color balance and crop, plus artistic stuff like black and white, sepia, cartoon and coloring book features! What I can't do with my Kodak EasyShare CX4200, I can with my PictureIt! program. PictureIt! has tons of extras like removing dust, shadows, blemishes and artistic fun stuff like adding text. I'm sorry that your sister was trying to do something nice for an up and coming photographer by giving her the job and ended up really paying the price in the end. Good thing she had you to help out : )

• United States
26 Mar 07
Thank you :) It is a shame that she didn't try to fix them better than she supposedly did. I think one of the main reasons I'm upset about it (more than maybe is normal) is because I do know a thing or two about good photography. And that is not it. :)