Getting Ready 2 Celebrate...And 10,9,8,7,6,5,4,3,2,1...Yeah!!!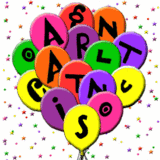 United States
March 25, 2007 2:57pm CST
Ten more to go and I'll be there. The big "500". Come a celebrate with me. This has been a tedious task to hit 500 points. Wow! Finally!!!
4 responses


• United States
25 Mar 07
Very exciting! Congratulations, and I like your little picture of the balloons.

• Pakistan
25 Mar 07
Hey congratulations on that buddy. Although i should rather say that in advance, since you're still on the 491 mark as of this writing. Hope you the best of luck, and getting to the 500 mark is no easy task. Even I know that, but if you're determined, you can do more than that.. much more than that. Hopefully, you'll get higher numbers than this ;). 500 points feels like a really good victory. I mean, that's 1/2 a thousand. Come to think of it. half a thousand. Now that must be good!