"It's not the size of the dog in the fight,.......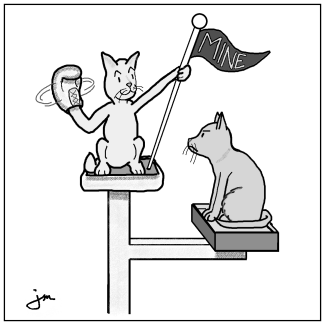 Australia
March 27, 2007 3:29am CST
.....it's the size of the fight in the dog."Mark Twain I came across this great cat story." That saying applies to cats too, particularly Caitie-Belle. She's small but scrappy, and she knows how to take care of herself, as you might expect from a cat who used to dig through garbage cans for food. One day soon after we adopted her, she was on the top level of the cat tree, looking out the window, when Kelly showed up. The Big Guy has always dominated Lizzie, who is a classic fraidy-cat, and he probably expected to deal with his new housemate the same way. He climbed to the level just below the top, and began taking that last step up. The Calico Diva lowered her ears, hissed, and threw a right cross that made Kelly back down. The next time Kelly wanted to look out that window, he glared up at Caitie-Belle, but decided he didn't want a rematch. Instead, he gathered himself and leaped from the floor directly to the windowsill. Once that little matter of who's-the-boss was settled, Kelly and Caitie-Belle eventually learned to share. "By John & pat
9 responses

• Canada
27 Mar 07
thats too funny being a two cat household we have that situation everyday.Smokey who was her first is so passive then came SusieQ she was a whirlwind.Smokey hides from strangers while SusieQ is you don't stop her will plop in there face I swear lol. SusieQ never hid (btw both are from the local shelter) she seemed to just take right over.when they eat she eats first Smokey hangs back and just takes her time knowing that there will be enough for two. but there is one interesting phenomena that happens here.Since i have fallen ill with the bleed in my brain and have had the terrible migraines Smokey must sense it.when a migraine strikes .I head for my bed all blinds drawn normally SusieQ sleep up by my head Smokey at the end of the bed..not so during a migraine Smokey will not let her in the bed.its just her and I and she curls up in my arms. I love her for this..Ctas are so quirky hugs Cheryl

• Australia
28 Mar 07
Your story about your cats concern for you is wonderful. They can definitely sense things. It is a worry about the bleed on your brain though. Why did this happen?

• Canada
13 Apr 07
thanks for the best response I have an arterio venus malformation in the brain that needs to be reparied i was born with it they say hugs Cheryl

• United States
27 Mar 07
Pecking order. Pure and simple. We have 5 cats and 3 dogs and there is definitely a hierarchy of who is in charge and who is the low man on the totem pole so to speak. Our animals friends could teach us some things in working things out. I would prefer to live in the animal world at some points. Thanks for sharing this with us today.

• Australia
28 Mar 07
My mother always said that if reincarnation is true, then she wants to come back as a cat, in a well loved household.

• United States
27 Mar 07
That's a good story! LOL. It is funny how territorial cats can become. They will find "their" spot, and look out for anyone or any other cat who decides they want to use "their" spot! I've even had an inside cat, who just went each day out to look around for a few minutes, try to chase another cat out of "her" yard! Ferocious beasts, aren't they, when they want to make a point! LOL

• Singapore
28 Mar 07
True, i think in most fights, the position is as important as the size. If they were on level grounds you know who's gonna win. Cheeers

• United States
28 Mar 07
LOL-that sounds like my calico she's a fiesty little thing great story:)

• United States
27 Mar 07
I am familiar with the Mark Twain quote and it is very true. It is why I have to be so careful with my two chihuahuas as they have no ides they are so small and they will challenge dogs 5 times their size.

• United States
27 Mar 07
I believe that 100% We used to have a dog named Snoopy and a black cat named neenee.When we first brought Snoopy home,neenee took no time making it known to Snoopy who was in charge. He didn't care that Snoopy was literally more than twice his side,he wasn't gonna let this dog take over his territory! lol

•
28 Mar 07
Yes it's definately true. We have a cat and dog. When we got the cat they eventually learnt to tolerate one another! But I'm sure the cat teases the dog on purpose and the same with the dog! Have a great day!

• United States
27 Mar 07
I can't count how many times I've seen a small, aggressive dog cause a big dog to back off, cowering in fear. I also used to have a tough little parakeet who wasn't afraid of anything. The dog was afraid of him and the bird would tease him and seem to have a good time doing it.