not just blonde on the outside............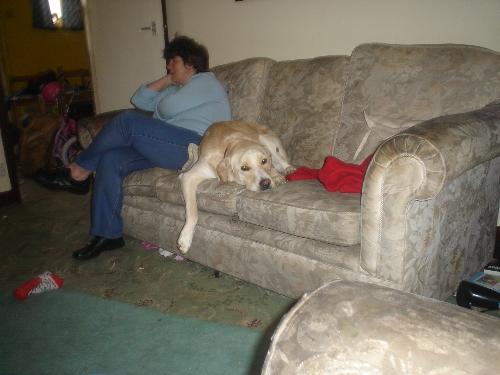 March 27, 2007 4:33am CST
I know labradors are meant to be intelligent but i think we got ourselves a stupid one. Nero, our 5 years old golden labrador came to us from a rescue home and, although he has settled in well, gains endless plesure in chasing our 3 year old cat, Guinness. Now, Guiness also gets something out of this pursuit, he gets to regularly humiliate our dog. His modus operendi is this. First cat will patrole up and down in front of the Dog, dog will growl cat will start to run. Nero will now start to chase after Guinness. Guinness has a personal cat flap exit point in the back door of our house. Guiness knows the hole is cat sized and cat shaped and he will dive out of it. However many times this act is played out,(at least once a day) Nero never learns that the hole in the door is not big enough for him and he invariably crashes into the door. He truely is blonde on the inside too
4 responses

• Lincoln, Nebraska
27 Mar 07
Actually, I have heard that many Labradors are a bit dumb in respect to some things. But then although I love dogs, my friend's German Shorthair Pointer can act very stupid sometimes. Throw him two tennis balls at once and it confuses him. He tries to put both of them in his mouth and it's hilarious to watch. Haven't tried it lately as the dog is now 14 years old. Your labrador must be hilarious to watch.

•
27 Mar 07
hahaha thank you for your response. I bet watching a dog trying to catch tennis balls was fun too. As for Nero, well he never learns and he hits the cat flap at least three times a week, blessed be

• United States
28 Mar 07
No worries stupid animals usually have lots of love to make up for it.

•
28 Mar 07
he certainly has a lot of love and is very loyal


•
28 Mar 07
this is very true, he has stupidity off to a fine art, but only when it is to his advantage blessed be

• United States
28 Mar 07
LOL.. I have a standing joke that the labrador gene pool is very shallow anymore!!! I swear! My black lab was seriously mentally challenged. He went through a 2nd story window after a squirrel in a tree, not once, not twice, but three times before he caught on that the window was there! LOL Now how bright can we be?!!! Luckily I think his brain has grown a bit and he's not nearly as slow to learn.. but he's about 3 or 4 now! LOL So I can appreciate your wonderment over the supposed brilliant labs! LOL

•
29 Mar 07
its true.... I really thought we were the only ones with a stupid one. Lol thank you for your response