Irritated at the Bank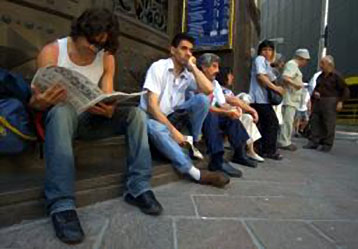 India
March 30, 2007 9:45am CST
Have you ever got irritated at the bank waiting for your turn. I happened to visit the bank for some transactions, probably might take about less than 15 mins but I had to wait for more than an hour for my turn, wait made me very much irritated, my whole schedule for the day was hampered... Have you ever faced something similar stuff which made you irritated and spoiled all your days plan.
3 responses

• United Kingdom
10 Apr 07
Thankfully I've never had to wait as long as an hour at the bank, I think ten minutes is the maximum. The worst irritation is waiting at the hospital! When I went for a blood test the other week I had to wait an hour and three quarters just to have a blood test which took two minutes! I dread going to the doctors too as you can waste precious time and you never ever get seen on time.

• Singapore
1 Apr 07
Oh yes, definitely. Especially when you join the lunch crowd, you are going to wait a long time. Sometimes, so long that you have to just leave before it is your turn since you need to get back to work.

• India
9 Apr 07
oh how can i forget the long queue during lunch time, what solution I got for that is, I just changed my timing for lunch, either I got little early or come back a little later when the expected crowd is very less... thats how I avoid the long queue... thanks for sharing your experience with us...

• Philippines
30 Mar 07
Yes i have experience waiting long in the bank. My transaction took 2 minutes. I do get annoyed for the long wait, I don't know why they don't hire more people, knowing that a lot of people goes there everyday. But since everyone else is waiting, it's ok then, I just have to suck it up.