The money tree ain't growing!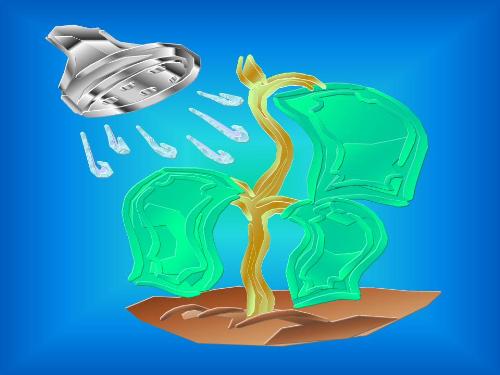 United States
April 4, 2007 3:18pm CST
When I first planted my "myLot Money Tree", I expected to see it sprout like Jack's legendary beanstalk.......so quickly and so high that I wouldn't be able to see the top, for the clouds. Well...it's been a month or more, and I've barely seen my "myLot Money Tree" even break ground. Oh, I've learned that I was pretty-much dreaming when I first got started, and expected way more than I should have. I must say I have enjoyed many of the dialogues and discussions here at myLot. It's a great forum to meet new people and learn new things...as well as a place to "vent" if you need to. Anyway...guess I'll just have to "keep on keepin 'on".....who knows? Maybe the "myLot Money Tree" will never compete with any Giant Redwoods, but it might just give a Dandelion a run for it's money! Yeah!
4 responses

• United States
4 Apr 07
I have to agree with the first two replies. You've churned out a ton of discussions, which might only get you a reputation as a spammer. I'm not saying that any of your discussions are spam, because I haven't looked at them, but when somebody expects to have his discussions replied to, and doesn't participate much in anyone else's it doesn't give a good impression. And that's just the kind of person whose discussions I usually avoid. Most of the income (unless you have active referrals) comes from your participation in the discussions. That means giving good answers, adding tags, and rating people fairly. Starting discussions is always a little bit of a risk because you might not get much in the way of responses, so you won't make much from them. Some, you won't make any money from at all. Replying always makes money for you.

• United States
4 Apr 07
Thanks for the post & advice. I do try to make frequent responses to other topics as well as to responses to my own posts. I'm obviously not spending all day on myLot, but from some of the advice given in some of the other posts, I need to ramp up on that, too. Thanks again!

• Pakistan
4 Apr 07
Well, i guess you need to post more than you are. And infact, it's not just about the quantity of posts. I mean, on mylot, it's the quality of the responses that determine how much your money tree can go. And i agree with the fact that you can get caught up with reading more then writing, but then, that does help to an extent, by allowing you to think of a quality answer, rather than a simple answer. Quality over quality, remember that, and you'll see that money tree grow at a good pace, although not at the jack and his beanstalk's rate!

• United States
4 Apr 07
Your 'myLot Money Tree' needs to be grounded firmly in reality. And that reality is that you have to play to win. 134 posts in a month or more? That won't get you far. I've done nearly that in 3 days, just because there are so many interesting topics here. It's easy to get caught up in reading and not posting. Is that what keeps your numbers low?