Our Cat Wilbur - He is a Mess!!

United States
April 11, 2007 8:54pm CST
This morning it was raining here at our home in Alabama. Wilbur does not like to be in the rain. He comes to the door and starts loudly MEOWWWWING until we get there and let him in. He will then find somewhere to give himself a kitty cat bath and then flop on the floor until he gets dried off. Ha! Ha!
5 responses

• United States
12 Apr 07
We have a cat door and our cat, Sam, will come in meowing to get dried off. He loves it when we rub him dry with a towel. I swear sometimes he will go right back out to get wet again just for another rub down! Cats are great, aren't they?

• United States
12 Apr 07
Ha! Ha! That is great! I love to hear stories about cats and that is adorable. Cats are indeed great! Wilbur keeps us laughing a lot with his antics!

• United States
12 Apr 07
Oh, that is cute!! We have a stray cat that hangs around who would come in if we would let him and does if he can slip by, then I have to chase him out!! My younguns have named him Scamper and he does scamper when I chase him out the door! Ha! Ha!


• Turkey
13 Apr 07
Wilbur sounds just like my Max, full of mischief. Max hates the rain and won't go out in it unless he really has too!, but my cats love to be rubbed down with a towel after they come inside soaking wet, they'll sit and wait until the towel is ready and then purr whilst your drying them!

• United States
13 Apr 07
That is so cute!! I just read this response to my husband and he got a big laugh out of it!! He said "I would pay good money to see that!". He loves cat stories and dog stories like I do.

• Turkey
26 Apr 07
Thanks for the best response! I'll have to try and get the video camera ready next it rains so you can see!!

• United States
28 Apr 07
Oh please do! I would love to see that and I'll get my husband here to my computer so he can see it also. When I told him your story about drying your cats with a towel he nearly hollered laughing!

• United States
12 Apr 07
I think Wilbur has THE life. He is one lucky cat.

• United States
12 Apr 07
You've got that right! He thinks he rules the roost around here. There have been a few times I will be up during the night for something and he will be at the door. When he hears me moving around he will start wanting to come in. But that is pretty much where I draw the line. I love him dearly but not enough to let him in at 2:00 in the morning to eat then be ready 15 minutes later to go back out. Not this Mama!!

• Philippines
14 Apr 07
that's cute... cats just doesn't want to get wet... ;)

• United States
14 Apr 07
He came in early this morning because it was raining here in Alabama where I live!! Ha! Ha!

• United Kingdom
16 May 07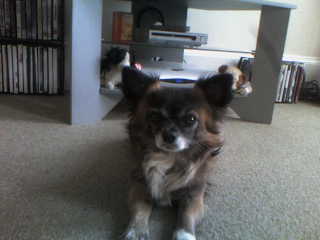 Lol I have a little Dog Gissi He always has to go out for his walk at certain times rain or not lol he takes his time and I am sure that I have never seen a dog pass water as much as he does lol But when we come in he goes wild lol running around rolling all over the Carpet and if he got the chance he would be rolling all over my Bed to lol