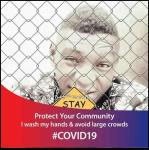 Praiseworthy
@lamidimohammed3 (13)
Nigeria
Joined myLot 3 years ago
Always ready to learn,thats the main reason why i listen..coolheaded human i am.scared of staying in the dark,no time to look@ time..caution
Praiseworthy's Followers
Greg
@xander6464 (38945)
•

Wapello, Iowa
25 Aug 15

Greetings, Earthlings and fellow time travelers! Come and enjoy.
153 following
Manoj Lama
@ManjLama (20)
28 May 20

This user has no bio!
228 following
George Bernard Vieto
@Deepizzaguy (86777)
•

Lake Charles, Louisiana
18 Nov 15

I am a fan of the old school cartoons like the Justice League Of America, the Marvel Super Hero Hour, modern cartoons like WordGirl
678 following
John Murphree
@JWMILLER (3293)
•

Westmoreland, Tennessee
20 Oct 15

This user has no bio!
199 following