g for a certain dessert recipe

United States
April 17, 2007 9:02am CST
A while back I had a recipe for a cake but can't find the recipe. Does anyone reconize these ingredients? I know you bought a sponge cake and maybe cut it in 2's or 3"s??? then added whip cream, strawberries and MAYBE vanilla pudding? Not too sure about the pudding. It was an easy recipe and light and very delicious. If anyone knows what I'm talking about please let me know!
4 responses

• United States
17 Apr 07
I can tell you one that is close. Take an angel food cake and slice into layers. In a bowl, mix one carten coolwhip, one can crushed pineapple, and one box vanilla pudding. Start at the bottom and add mix to each layer building the cake up. Finnish by topping with strawberries. Yum

• United States
17 Apr 07
You have it!!! That's it! That's it!!! Thank you so much! It was the pineapple I Couldn't remember! I knew it wasn't strawberry shortcake I knew how to make that. But thanks to you all that tired to help! I have no idea where I got the pudding from but thanks alot sjettmomof2!

• United States
17 Apr 07
oops!!! It DOES have vanilla pudding....didn't read that good enough! Everyone should try this recipe...it is really good!

• Canada
17 Apr 07
Strawberry Shortcake we call it here in Western Canada. I have never had it with pudding though, it is an interesting idea to add pudding, I may try that. I like the little individual sponge cakes then I put cut fresh strawberries on it and sprinkle with icing sugar, then I whip up some whip cream with vanilla and icing sugar in it and dollop it on top. I love strawberries best of all fruits and this is one of my all time favorites. I can't wait for Strawberry season!

• United States
17 Apr 07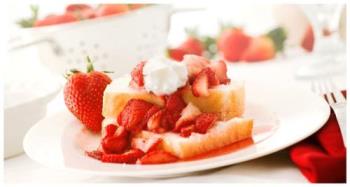 Sounds like what you are describing is strawberry shortcake. I haven't seen it made with pudding though. Here is the recipe I use very simple. Hull, clean and slice strawberries. In a medium mixing bowl combine sliced strawberries and 2-3 Tbls sugar (depending on how sweet you would like your sauce). Refrigerate for approx. 30 minutes or until the strawberries release their juices. Slice prepared angel food cake or use the angel food cups. Top with the strawberries and whipped topping.

• United States
17 Apr 07
It's strawberry shortcake, in the southern US it is usually serveds with vanilla ice crean instead of the pudding, either way if fine & tasty.