do you like DOLPHINS?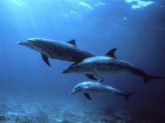 Philippines
3 responses

• Singapore
20 Apr 07
I like dolphins due to the fact that they are smart, intelligent and cute too. But I am sad that they are being kept in captivity as they should be roaming freely in the ocean. I am also depress knowing that they are being butchered in numbers by fishermen as they thrive in areas where there are a lot of fishes.....:

• United States
19 Apr 07
Yes, I do like dolphins. They are beautiful creatures! I have always wanted to be able to swim with dolphins, it always looks like so much fun when I watch people on television do it. I love to watch the shows that dolphins perform too, it just goes to show that they are very smart creatures.