is there is any chance for the rematch between batista & undertaker for the tit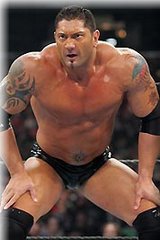 India
6 responses

• India
25 Apr 07
Actually I'm looking forward for this match which will be going to happen in Blacklash...It will be undoubtly be one of the most exciting match to watch out for as Batista will give up his level best to regain his belt and somehow I have a feeling that he will do it..so waiting to see that match...


• United States
19 Apr 07
oh ya they gonna go again, I wish it wasn't at a payper view tho, but I look for undertaker to take it for sure. He is oldest man actually wrestling yet in the leaque along with flair so I am sure he will rest batista in peace. but it is for sure not going to be an easy match...I love wwe and ecw, tna tho is a little out there.haven't figured that one out yet...

• India
19 Apr 07
the result is pretty much obvious. batista could not defend his title in an ordinary match and there is no way he is gonna be the last man standing! i wish it were a hell in a cell match!

• Canada
18 Apr 07
I can just imagine Vinnie Mac saying "no" to this rematch because he does not want to make any more money on the backs of these two wrestlers.If there was money to be madein it,Mcmahon would put an Undertaker/Linda McMahon match on!

• Bahrain
18 Apr 07
Chance.....???? It's already been decided, they are facing each other at backlash on 29th April for the title in a "last man standing" match, it doesn't get any better than that. I'm sure everyone knew and was hoping that this rivalry will entertain us just a little bit more and will not end at wrestlemania 23, and so is the rivalry between John Cena and HBK, at backlash there will be a fatal four way match between cena vs. hbk vs randy orton vs. edge. That's gonna be worth the watch. I do hope Cena wins again but his one's real risky.