didn't get enough sleep last night... how do you deal with it?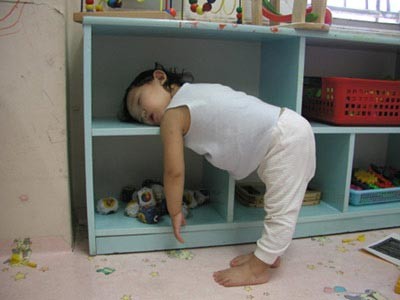 Philippines
6 responses

•
18 Apr 07
I dont know if i could deal with it, i would probably leave and go home, i have no staying power whatsoever and i am the worlds worst when i am tired! I couldnt continue what i was doing and i'd probably end up falling asleep stood up! :)

• Philippines
19 Apr 07
lol! as long as there was a wall to lean on i'd fall asleep that way too!

• Poland
26 Apr 07
Hard to say...usual i feel good just in my house and if i am in another place will be hard for me because i am the type which can't spend a whole night without sleep... I think i will go in a bus and stay on chair and try to nap little..but,nah....i am in my home i don't have to think about this right now...ha ha augusta

• Philippines
24 Apr 07
I am the type of person who could function with just a few hours of sleep. So getting really sleepy during the day never happens to me. But in case I will be in the situation that you gave, I will probably just look for a coffee shop or any store that sells instant coffee and drink lots and lots of hot coffee.

• Philippines
24 Apr 07
I guess I would do that too! Three cups, one after the other... my gosh that would probably keep me up the rest of the day! thanks for the response!

• Philippines
20 Apr 07
As I have no problem sleeping almost anywhere as long as there is a reasonable mattress and pillows to sleep on, I don't have any trouble with that. Try to program your mind not to react to a new sorrounding or environment -- surely if ypu think more on this you will really loss a good amount of sleep. Take a good sleeping tea or anything that could induce you to sleep well. Have a nice sleeping, my dear.

• United States
18 Apr 07
I'm stupid enough, I'd probably try to stoke myself up on caffeine and drive home. Most likely resulting in wrapping myself around a tree. Though if all else fails, cars can be fairly comfy to sleep in. Don't just pull off at the edge of the road though; do it someplace safer, like a parking lot or rest area.

• United States
18 Apr 07
When I don't get enough sleep at night I usually try do things to keep myself busy so that by the time I finally look at a clock it is almost time to go to bed again.