Send a "Dog Tag" in your name to a soldier in Iraq!! Free!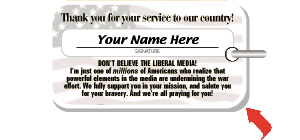 Etowah, Tennessee
April 18, 2007 5:21pm CST
I found this and just had to share it. I sent one from our Girl Scout Troop and will also send one in my name. Here is the link and a little bit from the website: https://www.fightmediabias.org/index.asp The mainstream liberal media want you to believe that U.S. troops in Iraq are guilty of widespread torture ... oppressing civilians ... murdering U.S. journalists ... opposing the war effort ... These courageous men and women need to know that somebody back home is working to restore fairness and balance to the media's coverage of the sacrifices they're making for us. That's why I want you to add your name to a special "dog tag" that I'll send to one of our heroic soldiers on the front lines. The dog tag bears the message, "Don't Believe the Liberal Media -- America Supports Our Troops!" -- in your name, personally. And it promises your prayers until that soldier comes home safe and sound. I'll also send you a second "dog tag." I hope you'll put your dog tag on your key chain as a daily reminder to pray for our troops and their safe return home. Join me in demanding that the media tell the truth about our troops in Iraq and help me get a signed tag to every single one of the 150,000 men and women in uniform over there. Please add your name, a message, and an email address in the form on the right side of this page and we'll take it from there. Jack Singlaub https://www.fightmediabias.org/index.asp Please do your part and support the troops. They should know we believe in them, and think of them as heros.
9 responses

• United States
18 Apr 07
Wow! this is excellent..what a fabulous idea! I sent one out just now,and i hope they stay in touch..even though ti dont know them..i think it would be great to talk and try to keep them cheered up if i could,,im gonan send this link to everyone i know..so thank you very much! I hope they like them..and know they are all in our prayers,,


• United States
20 Apr 07
yes i know howe..i copied and pastedthe link and sent it to al my friends by email..and i also told friends here about it..thank oyu so much! this was excellent!

• United States
18 Apr 07
Thanks for sharing that information, that is really nice. My husband is in the army and is currently in Iraq, so it always makes me really happy to see support like that for our troops. I've actually been ridiculed by some of those people who believe all that liberal media, for being an army wife, which breaks my heart, so I really appreciate things like this that show support for our service men and women. Thanks again for sharing! :)

• United States
18 Apr 07
What a neat idea, I sent one along with my prayers. I will do anything I can to support our troops and appreciate anyone else who does the same - being the mother of a service man myself. These young men and women are doing a very important job and it really irritates me when people don't support them.

• Etowah, Tennessee
18 Apr 07
I did not know that you had a son in the service. Bless you and your son. My prayers are with you both. thank you for sending one. They want EVERY soldier to get one. Wouldn't it be neat if your son got yours.LOL I doubt it would happen, but stranger things have

• United States
19 Apr 07
Thank you so very much for your prayers, they are always appreciated. Yes, my #2 son has served in the USAF for 8 years now, he's been shipped out 4 times but Mom's prayers and tears have been answered and he's been promoted to a job in research and design and will not be sent again unless there was something really really big happen. It would be funny if he got my tag but he knows he has my daily prayers so I'm going to pray another service person gets it - one who needs it.

• United States
19 Apr 07
Thanks for pointing this out. It's a very ingenius idea.

• United States
19 Apr 07
Oh I am so glad you found this!! I will be sending many! Thank you, Thank you, Thank you!!!

• United States
19 Apr 07
I showed this to my husband and he will be receiving one for me to wear while in Iraq, along with my many friends, my son n law and nephew who are already there.

• United States
19 Apr 07
sorry, I meant he will get one FROM me to wear while he is in Iraq.

• United States
26 Apr 07
Thank you for this link. I sent one and am sending the link to all my friends and family. What a wonderful idea!!

• United States
24 Apr 07
Wow, this is a great idea. I will certainly be checking this out. It is crazy that I found your post tonight about supporting our soldiers because last night I posted about supporting our soldiers. I hope that you could check it out. Maybe you would be one of the people who can give me some information on what I had to say there. Thanks again for this information you have posted here. It is so great to have people, like yourself doing things like this in order to show our troops that we do support them. Thanks again and have a great night. =)

• United States
24 Apr 07
Okay, thanks for letting us know. If it is a scam...what a terrible way and what a terrible thing for someone to make money off of. Some people are so cruel. But anyhow if you go to my page you can find the posting I wrote about how I would like to support our troops. You will also see, as of right now, not even one single person has responded to it. It amazes me to some of the subjects people will respond to but not to something like that..oh well, what can a person do..lol Take care, ~Chanel~

• Canada
22 Apr 07
This is a pretty neat thing you are doing! I am Canadian and i suppose I could do one of those but it is probably more meaningful to them that it be a fellow american. I have to tell you my heart supports those troops. All of them! It is truely sad what is happening to our world today it is drasticly different then it was before 911 that is for sure. Although before 911 you could feel the change coming on! Good for you for doing this. I support you in what you are doing.

• United States
19 Apr 07
This is a neat idea. We were just discussing this in Bible study today and had prayer for several people over there that various ones of us knew. So I think I will pass this along to the ladies in our group. Thank you for sharing this.